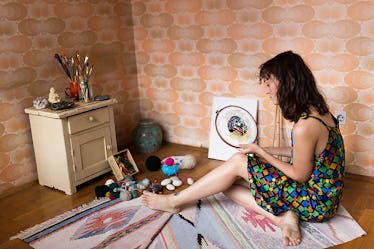 This Subscription Service Is Perfect If You Low-Key Don't Have A "Favorite Hobby"
Maybe you crochet, or make flower wreaths, or paint figurines of war craft carriers. Or perhaps you're a bird watcher, have a book club, or host a weekly Dungeons and Dragons meet-up. If so, that's really rad. But some of us, myself included, straight-up don't have a hobby — you know, like, one of those things you do just for fun and relaxation that have no purpose other than being fun and relaxing. Well, friends, now there's a subscription service for that, and it's called Bluprint. Yes, Bluprint is a subscription service for hobbies and hobbies alone, and it gives you a way to discover totally new things that, otherwise, you probably never would've even dreamed of learning about.
So here's how the service works: Bluprint is basically all about being the ClassPass of hobbies. It offers online courses that help you find and figure out your hidden passions, like visual arts, cooking, dancing, floral arranging, or needlecraft — that's just naming a few of hundreds of examples, BTW. On its website, Bluprint has 3,000 freaking hours of original classes, all of which are taught by various kinds of experts who can help you move from beginner to advanced levels in your new hobbies. For $14.99 a month, Bluprint is sort of like Netflix, in that you can choose what you want to learn about and dive right in at any time you want.
Now, before you roll your eyes at the rise of yet another subscription service, it's worth noting that hobbies, even though they're just for fun, really are worth the time and investment. "Developing a hobby is one of the most undervalued aspects of self-care," John Levisay, CEO of Bluprint, tells Elite Daily over email. "We all know that we need to eat well and exercise, but many people don't realize how important it can be to our emotional and physical well-being to carve out time for our passions."
Levisay says he and his team created Bluprint to give people an easy roadmap to identify a passion that's right for them, and to offer access to inspiration and high-quality courses that can easily fit into your everyday life. "We want everyone, no matter what their life circumstance, to have access to creative pursuits and all the benefits they provide," he explains.
OK, I have to admit, I've always personally found the idea of having a hobby a little dorky, but I'm warming up to the idea. After all, having something to do with your free time that you genuinely enjoy, that isn't just another thing to check off your to-do list, sounds pretty nice. And it turns out, there are real benefits to having a hobby: According to a 2015 study published in the medical journal Annals of Behavioral Medicine, leisure time is definitely good for your well-being; more specifically, the research found it can put you in a good mood, lower your heart rate, and even mellow out your stress levels.
So scoff not, my friends, because honestly, Bluprint is on to something. If you're curious to see what it's all about, you can start a free trial to check out what the service has to offer without making any immediate commitments. Before you know it, you might be decorating cakes, doing street photography, or hey, maybe you'll even get into knitting. Whatever it is that piques your interest, at least you'll have a fun fact to say about yourself at the next awkward meeting you find yourself in, right?