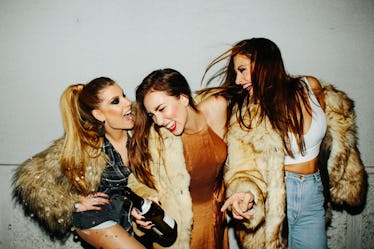 A "Sinstagram" Instagram Account Is What Your Thirst Traps Needed, Like Yesterday
Hold up: You need to make a second Instagram account? The answer to that question is yes, and you'll be thanking me in a second for throwing even more social media into your life. At the moment, you might be a bit cautious when it comes to your posts. You've been keeping a lot of golden memories to yourself, but that's about to change. These pictures will finally have a home on your "Sinstagram." What is a "Sinstagram" Instagram account, might you ask? Well, let me give you the scoop, because your thirst traps needed this, like yesterday.
First thing's first: This kind of Instagram account is meant to be flirty, a whole lot of fun, and relatable AF. This isn't the place for the pictures that you spent hours finding the perfect filter for, or the blogger-esque photos your best friend snapped of you at the beach.
Right now, if you went into your camera roll, you'd find tons of selfies that didn't make the cut on your feed, and Snapchat pictures you saved where you look like a turtle. (Guilty.) There are your thirst traps from a few months back, when you were crushing hard on that cutie in your class, and the blurry snaps of your crew from a party you could never forget. You might want an entirely different account where you can share these "sins." That's where a "Sinstagram" comes in. Get your captions and candids ready.
What is a "Sinstagram" Instagram account?
A "Sinstagram" account is basically like a "Finsta," but purely for the things you may not want to post on your usual account. Typically, you might not want to share the photos where you're covered in pizza or sitting on the sidewalk outside of a bar with your besties on a public feed that could be seen by your future employer or family members. There's absolutely no shame in those memories, and I've had them, too. But, there's a time, place, and audience for such "sins," am I right?
On a "Sinstagram," you can get real with your followers, and worry less about sharing images that aren't necessarily inspired. You can post your stories from Saturday night, and own those selfies and thirst traps more than ever.
Truth is, you should never feel the need to show your life through a filter for social media, but it can be inevitable on your main account. You may fall into the latest editing trends and try to perfectly pose with your pool float. It's exhausting at times, but there's a little voice inside of you that's saying, "Do it for the 'Gram!" Put those thoughts aside when it comes to sharing your "sins."
What kind of pictures should you post?
When it comes to your "Sinstagram," you're trying to show off your spontaneous side, or the moments that may not have gone according to plan. Maybe you and your besties were having an adventure, and ended up at your local diner. You took a few selfies with your milkshakes that were not-so-glamorous, but really summed up the epic time you had. Post them, and don't forget to add a caption inspired by "Milkshake" by Kelis, like, "My milkshake brings all the boys to the yard," to tie it all together.
Personally, I'd say still be a bit cautious. You should keep in mind that these pictures are still going to be seen by your followers. You may consider making this account private so that you can control exactly who's seeing your posts. After all, the last thing you want is for your aunt to come across these pictures and bring it up at the next family party — am I right?
What else goes into making a "Sinstagram?"
All in all, creating a "Sinstagram" is fairly easy. You might have purchased some preset packs for editing apps for your main account. But, a feed that's based off of your "sins" just takes making some memories as a 20-something, and sharing them on social media.
You'll want to create a fun name for your account, and maybe pick out some cute emojis for the bio. Even tracking down a few hashtags could be a good idea. When it comes to captions, you'll want to ditch the puns and might choose to be straightforward or cheesy. There's really no pressure at all, and that's the beauty of it. What are you waiting for? You needed this yesterday.