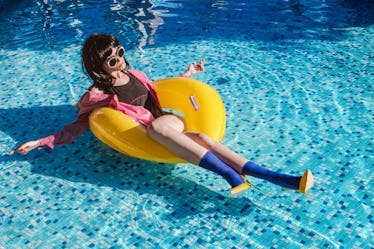 How To Take A Cute Instagram With A Pool Float To Inflate Your Insta Likes
More pool floats, please! I can't get enough of the fact that there's flamingos all over my feed. What started with cute tropical tubes turned into ice cream cones and golden swans — and did you see the one that fits all of your friends? You may be wondering how to take a cute Instagram with a pool float. After all, you don't want to be like everyone else on Insta, but want to get your own pic onto the 'Gram.
Personally, I think we have Taylor Swift to blame for the pool float trend. She posted that iconic photo on Instagram of her and Calvin Harris riding a swan in the middle of summer, and suddenly everybody needed one ASAP. That day, I started scrolling through Amazon while I was at work, trying to find the float that would be fun, but not exactly like everybody else's. Keep in mind: I don't even have a pool, and was having way too much trouble picking just one.
Nowadays, the choices are endless. Stores came out with doughnuts and even avocado-shaped floats. So, you'll always be relaxing in style. On those super hot days, you may choose to swim or even head down to the beach, ditching your float along the way. But, when the sun is shining, you're bound to have a photo shoot with your picture-perfect purchase. It's sort of a must, am I right? One of these seven poses won't be basic, and will keep your summer and social media looking fresh.