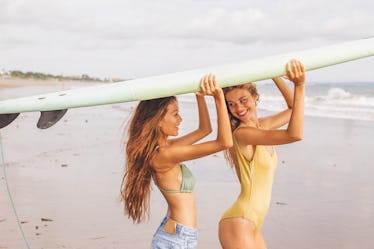 How Summer Changes Once You Have A Summer Romance In Your 20s
Love is in the air. Summer is already a fan favorite between the sunshine and endless scoops of ice cream. Most of us are crushing hard on Mother Nature when May comes around, and the warm weather is finally gracing us with its presence. We spend more time outside, and get social with our girl crew. But, the most memorable moments can come from a summer love story we wish would never end. When you're in love, you may be a bit blind to how summer changes. Lucky for you, I've rounded up what's really quite different about these days in the sun.
Leave it to Nicholas Sparks and romantic comedies to once again set the standards for love stories so high. The Notebook, The Last Song, and the catchy tunes from Grease all take place in summertime when the sun isn't the only thing bringing on the heat. No matter how many times I watch those movies, I'll still fall head-over-heels for the sweet scenes in the sand and surf. It's like the sparks are flying out of the television screen and straight into my feels.
Maybe you're in a relationship, or are just having a fun and flirty summer fling. When love is involved, every day is a bit brighter. You'll realize that these seven things are what really changes, though, when it comes to romance and the most radiant time of the year.