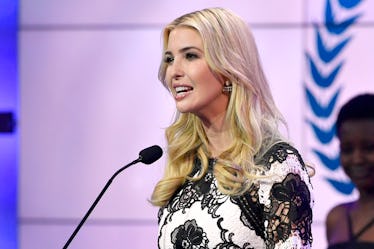 Ivanka Trump's Reported Attempt To "Help" Migrant Children Is The Lowest Bar Ever
Larry French/Getty Images Sport/Getty Images
I think the world has been collectively wondering: what has Ivanka Trump done about families separated at the border? President Donald Trump's harsh immigration policies, which permit the separation of migrant children from their families under its new "zero tolerance policy," has faced intense criticism, with many looking to the first daughter and senior adviser to the president to speak up against the controversial regulation. However, Trump has been disturbingly mute throughout the entire ordeal. And according to this report, she hasn't done much to help put an end to it behind the scenes, either.
Although Trump has yet to publicly address the regulation, in a closed-door meeting with Republican lawmakers on June 19, Donald reportedly told the audience that his daughter had spoken to the president about the images floating around of separated children. "He mentioned Ivanka talked to him about that," New York Rep. Chris Collins told reporters after the meeting, per CNN. Collins added: "His daughter had seen the images and said for a lot of reasons we should be dealing with this. And that is what this bill does."
Rep. Carlos Curbelo, echoed a similar comment to reporters, saying:
He mentioned that his daughter Ivanka had encouraged him to end this, and he said he does recognize that it needs to end and the images are painful and he's looking for a legislative solution. He discussed the optics and the policy itself and I think he's not comfortable with either.
OK then. "We should be dealing with this" and saying it needs to be handled "for a lot of reasons" isn't exactly the ringing denunciation that I think a lot of people were hoping to see.
But New York Times reporter Maggie Haberman offered an even less flattering report of what went down when the first daughter brought up the subject. On June 19, she tweeted out that Trump had approached her father and asked, "Daddy, what are we doing about this?" To which the president responded that it's a "tough issue" and changed the subject. The White House did not immediately respond to Elite Daily's request for comment on Ivanka Trump's input or the reported conversations.
Seriously, though? "Daddy, what are we doing about this" is what you say when your dad won't pick which steakhouse he wants to go to for Father's Day, not when thousands of children are separated from their families because of your policy.
In the past weeks since the policy's implementation — which seeks to prosecute anyone who crosses into the United States from the southern border and separates them from their children — more than 2,000 children have been split up from their parents. Heartbreaking images and audio of the children in captivity have swept the nation, with many advocates and onlookers calling for a solution to the separation policy. In the meantime, Trump has remained silent on the issue — which has subjected her to some harsh criticism.
During an June 19 episode on ABC's The View, Meghan McCain personally called out the first daughter for her failure to speak up on the administration's controversial policy. "Where is Ivanka in all of this? Because she is all for women and mothers, and she has a White House role, and a job," she said. She added, "I'm sort of interested that her whole platform has been women and mothers and she doesn't seem to have anything to say about this."
TBH, I can't really be too mad at McCain, seeing how Trump hasn't lived up to her previous claims of being a champion for women and family issues. And apparently, nothing has changed, because instead of speaking up about the latest policy, Trump has opted to spend her time sharing photos to social media of herself hanging with her own family. Like on May 27, when she posted a photo of herself cuddling her son. The image came in the wake of reports that children were being ripped away from their families, as well as the 1,500 migrant children reported as missing while in government custody — so, of course, a lot of people were pissed and took to social media to call Trump out.
One user wrote, "How lucky that you get to do that with your children. Meanwhile, there are 1500 children that are missing their parents as a result of Daddy's orders. The fact that you and other so-called leaders have stood idly by and done nothing speaks volumes."
Yikes.
All in all, there's no way to tell if or when Trump will finally speak up publicly about the policy. But it seems that, despite all her talk about supporting families and children, she might just be trying to sit this one out. SMH.