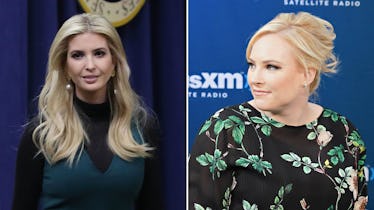 Meghan McCain Called Out Ivanka Trump's Silence On Families Being Separated At The Border
Mark Wilson/Getty Images News/Getty Images // Cindy Ord/Getty Images Entertainment/Getty Images
While the Trump administration's highly controversial family separation policy continues, one person has remained significantly quiet about the harsh regulation: Ivanka Trump. Her silence has already attracted tons of criticism and attention, however, there was one critic still to come. Meghan McCain called out Ivanka Trump's silence on separated families, and it's truly praiseworthy.
During an June 19 episode on ABC's The View, McCain called out the first daughter for her failure to speak up on the administration's controversial policy of separating undocumented migrant children from their families at the southern border. "Where is Ivanka in all of this? Because she is all for women and mothers, and she has a White House role, and a job," McCain asked, in reference to Trump's role as a senior White House adviser.
"And I'm sort of interested that her whole platform has been women and mothers and she doesn't seem to have anything to say about this," McCain added.
The "zero tolerance policy," announced by Attorney General Jeff Sessions earlier this year, says that anyone who crosses the United States' southern border illegally will be prosecuted. As a result, many children have been separated from their parents and put into a separate processing system while the adults are prosecuted. Since its implementation, around 2,000 children have been separated from their guardians in a six-week period over April and May, according to the Department of Homeland Security. The situations has left onlookers across the political spectrum, including McCain, horrified.
McCain is far from the first person to criticize Trump for her silence. On Friday, June 15, MSNBC's Morning Joe co-host Mika Brzezinski also called out the senior adviser for obliviously uploading photos of her children to social media in the wake of national outrage over the separation policy. She said, per Salon:
This is a story about women and their vital role as mothers, and when you have babies being taken away from their mothers, you have to ask why the counselor to the president — who was brought in to help the president perhaps create good policies surrounding women, parental leave, domestic policies that are important to women in this country — you have to ask why Ivanka Trump is so tone deaf to post a picture about her special day yesterday with her daughter?
"Because this is about who we are as a nation. It's also about women and their vital role as mothers," she added. "And we're losing every every step here. We're losing a sense of who we are, and it's wrong."
Like it or not, Brzezinski is spot-on with her comment, though. Trump has positioned herself as a champion for women and family issues in her father's administration, but she hasn't really done the best job. She's championed a controversial paid family leave policy that some said would hurt women and families more than it helped them, declined to stand for reproductive rights, and stood by her father as he rolled back equal pay protections.
And now, as the administration separates children from their families, Trump has remained silent on the issue, offering no public comments on the separations. Instead, Trump has spent a lot of her time sharing photos with her own family. For example, on May 27, she posted a photo of herself holding her son, an image that unintentionally highlighted national outrage around both the reports of children being taken away from their families under the separation regulation as well as the 1,500 migrant children reported as missing while in government custody — and the tweet definitely upset tons of onlookers.
One Twitter user wrote, "Wow! Have you been following the news? While the rest of the nation is up in arms about missing children, you flaunt your privileged motherhood. Have you no soul? No compassion? The disconnect is astounding."
Another person begged Trump to have the courage to share her true feelings on the missing children.
SMH.
Whether or not the first daughter decides to speak up remains to be seen. Perhaps she's just conjuring up the right thing to say, or maybe — just maybe — she decided that despite her public role, it's best to keep her feelings private. Who even knows anymore.