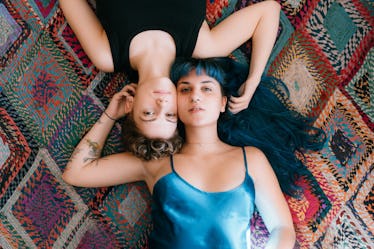 Here's What Happens When You Get Married Before Graduating, According To 6 People Who Tied The Knot
When it comes to tying the knot, figuring out the right age to take this step is nothing short of complex. The right timing will differ from couple to couple, and depends on a slew of different factors relating to both the individual partners as well as the relationship as a whole. But what happens when you get married before graduating? According to couples who have been through it, there are plenty of both perks and pitfalls.
According to the U.S. Census Bureau's recent estimates, in 2017, the average age of first marriage was 27.4 years for women, and 29.5 years for men — the highest it's ever been in recorded history. But not everyone is waiting so long: Some people opt to say their "I do's" before they even get their diplomas.
There's a longstanding belief that getting married young is riskier. And it makes sense — after all, with age, presumably, comes maturity, financial stability, and personal strength, all of which play a role in a successful marriage. That said, there are also benefits to marrying before you finish school. You can grow together. You can develop and nurture your goals together. You can celebrate some major early accomplishments together, like your school graduation or your first significant job.
Getting married before getting a degree may not be for everyone, but these six individuals still stand behind their decisions.