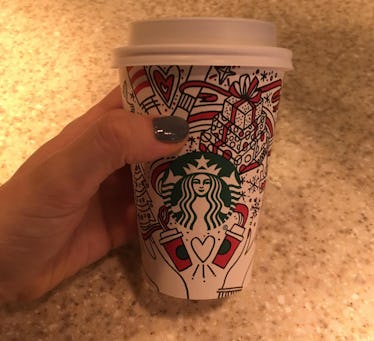 Starbucks' Toffee Almondmilk Hot Chocolate Tastes Like Christmas In A Cup
Danielle Valente
As much as it might pain you to accept, we're officially exiting Pumpkin Spice Latte season. However, there's no reason to mourn, because new winter drinks have hit the scene to make this time of year all the more sweet. If you're curious what Starbucks' Toffee Almondmilk Hot Chocolate tastes like, you are in for a chocolatey treat.
Joining the ranks of Peppermint Hot Chocolate, Snickerdoodle Hot Chocolate, and Salted Caramel Hot Chocolate, this new Starbucks treat ups the coziness factor and screams "Happy Holidays." The Toffee Almondmilk Hot Chocolate starts off with steamed Almondmilk that's mixed with mocha sauce and toffee nut syrup — a decadent must for the colder months, if you ask me. To put the finishing touch on what will be your new go-to order, the treat comes with whipped cream and Caramel Brulée topping. Beginning Nov. 21, this baby is all yours.
It's as pretty to sip as it is to taste. The hot chocolate is a perfect almond-hot chocolate blend and — if you're OK with going dairy — the whipped cream is a must. I was fortunate enough to receive chocolate shavings on top of mine, which was an added bonus. The toffee taste — at least with my order — was on the light side, but still lovely. The treat is certainly sweet, but not too sweet — so you can go with a Venti and not feel overwhelmed.
Starbucks — the Santa of the coffee world — has definitely embraced the holiday spirit, and not just with new drinks. Each year, Starbucks creates holiday cups that represent a special message. This year marks the first time Starbucks has offered a color-in theme with their cups, and you'll be more than willing to unleash your creativity.
"This year's cup is intentionally designed to encourage our customers to add their own color and illustrations," Leanne Fremar, executive creative director for Starbucks, said in a statement. "We love the idea of everyone making this year's cup their own.
To put one last positive spin on things, those with warm beverages will receive a cup sleeve, which provides the most important message of all: give good.
"Giving good can be as small as someone opening the door for you, or recognizing the people that enrich your life — your child's teacher, a caregiver, a family friend," Fremar stated. "The holidays are a time to celebrate all the good we give to each other and our community."
So while you're sipping on one (or six) of the new Starbucks Toffee Almondmilk Hot Chocolates in an adorable holiday cup, you might as well get your Christmas shopping done, too. Starbucks has new drool-worthy items that'll make the perfect gift for your grab bag with friends. No need to thank me for the suggestion.
The "Pink Cold Cups" are a trio of items that'll make The Plastics wish Wednesday came every day. There's a bit of pizzazz with each offering that'll put a spring in your step and make your morning cup of coffee sparkle... literally. Who wouldn't want to open up one of these bad boys on Christmas morning?
The Pink Stainless Cold Cup (right), which is $19.95, will be available at Starbucks locations inside grocery stores, airports, hotels, and retailers such as Target. The same goes for the Pink Sequins Plastic Cold Cup (center, $18.95) and The Pink Glitter Cold Cup (left, $14.95).
If hot chocolate and Instagram-worthy cups isn't the perfect way to ring in the holiday season, I'm not sure what is. Happy sipping, friends.
Check out the entire Gen Why series and other videos on Facebook and the Bustle app across Apple TV, Roku, and Amazon Fire TV.