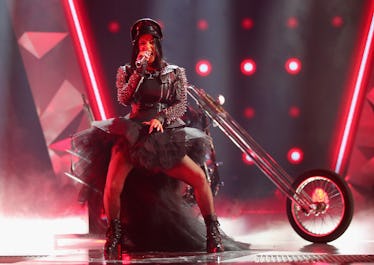 Cardi B Dropped A Song Called "Bickenhead" & We Need To Know What It Means
Christopher Polk/Getty Images Entertainment/Getty Images
Cardi B's debut album Invasion of Privacy dropped on Friday, April 6, and I am so excited, you guys! Seriously, this album is straight fire. There are guest spots from Chance The Rapper, Kehlani, SZA, 21 Savage, and of course Migos. Fans are already loving the tracks she previously released from the album, like "Be Careful," "Drip," and "Bartier Cardi." But there is something I really need to know, what does "Bickenhead" mean? Cardi B's new song — track three on the record — is a serious bop, even though I have never heard this word before in my life. Did my girl just invent it or something? I need some answers ASAP!
Turns out, the song is a remix of rapper Project Pat's hit tune "Chickenhead," off his 2001 album Mista Don't Play, produced by DJ Paul and Juicy J. Did Cardi change the name to "Bickenhead" as a play off the letter "B" in her name? I'm gonna go ahead and say that's probably the case. It just makes so much sense, doesn't it? And if I'm wrong, who even cares? The song is legit amazing, and fans can't stop talking about how much they are digging the whole old school Project Pat sample thing over on Twitter.
"Bickenhead" is definitely one of those songs you will not be able to get out of your head once you listen to it. But don't just take my word for — check it out for yourselves:
So good, right? I mean, it's a total jam! And if my Twitter feed is any indication, Cardi's fans approve big time.
Cardi B first announced the album in an Instagram post on March 26. She posted a shot of the Invasion Of Privacy's cool cover art, and then captioned the post, "My album cover !!! LADIES AND GENTS ! My album INVASION OF PRIVACY will be out next week April 6!!!!!!!"
There are 13 hot tracks on the album. Wanna know what they are? Well, duh, of course you do. Here, then, is the Invasion Of Privacy tracklist in its entirety:
1. "Get Up 10"
2. "Drip" featuring Migos
3. "Bickenhead"
4. "Bodak Yellow"
5. "Be Careful"
6. "Best Life"
7. "I Like It"
8. "Ring"
9. "Money Bag"
10. "Bartier Cardi" featuring 21 Savage
11. "She Bad"
12. "Thru Your Phone"
13. "I Do"
"Bickenhead" isn't the only single from the album to gets lots of Twitter attention, of course. Fans couldn't wait to point out on social media that Cardi raps about Beyoncé on her songs "Thru Your Phone," "Money Bags," and "Best Life," and about Chrissy Teigen and Rihanna in the song "She Bad."
And let's not forget about the fact that fans think "Be Careful" is written about Cardi's fiancé, Migos rapper Offset. Back in January 2018, rumors started swirling that Offset reportedly cheated on Cardi B. Elite Daily reached out to Cardi B and Offset's teams for confirmation on the cheating rumors but did not hear back by the time of publication.
Check out these lyrics:
Gave you TLC, you wanna creep and sh*t. Poured out my whole heart to a piece of sh*t. Man, I thought you would've learned your lesson. 'Bout liking pictures, not returnin' texts. I guess it's fine, man, I get the message. You still stutter after certain questions. You keep in contact with certain exes.
Definitely seems to me like she's putting her man on blast here. Will we ever know what went down between these two for real? Probably not. But despite all the drama, it's safe to say that Cardi killed it with her debut album. Congratulations, Bardi!