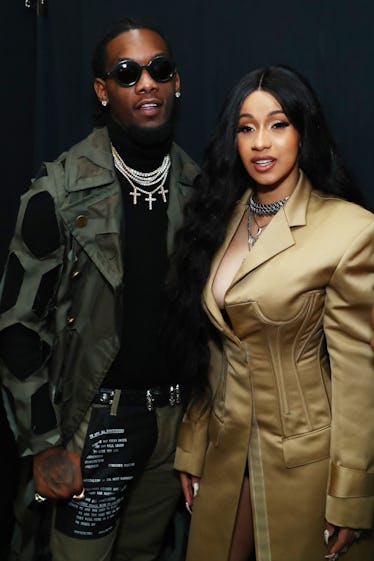 Here Are All The Lyrics On Cardi B's New Album That Fans Think Are About Offset
Astrid Stawiarz/Getty Images Entertainment/Getty Images
Cardi B's debut album, Invasion Of Privacy, is here and it has already made my Friday. The songs are so fun, and if you're anything like me, you're already looking through lyrics trying to find your next Instagram caption (sorry, not sorry). Someone who might not be the happiest about Cardi B's lyrics, though? Her fiancé, Offset. The Migos rapper found himself in hot water back in January 2018 after rumors surfaced that he cheated on Cardi B. Elite Daily reached out to Offset and Cardi B's teams for confirmation on the cheating rumors but did not hear back by the time of publication. Cardi B's lyrics that could be about Offset on Invasion of Privacy have fans on Twitter going nuts, and they're so deep that I really don't blame them.
Let me give y'all a little more background on the reported ~drama~ between Offset and Cardi B. Back in January, rumors suggested Offset cheated on Cardi B. On Jan. 8, the "Bodak Yellow" rapper addressed fans who questioned the rumors. According to People, Cardi B's tweet said, "No, it's not right for a [n***a] to cheat…But what you want me to do? ... Start all over again and get cheated on again? This sh** happens to everyone and I be too, you too…People handle they relationship different soo."
Cardi B addressed her relationship with Offset once more in an interview with Cosmopolitan for their April cover issue. She said,
It's like everybody is coming down my neck, like, 'Why are you not leaving him? You have low self-esteem.' I don't have low self-esteem. B*tch, I know I look good. I know I'm rich, I know I'm talented. I know I could get any man I want—any basketball player, football player. But I want to work out my shit with my man, and I don't got to explain why. I'm not your property. This is my life.
Whether about Offset or not, some of Cardi's lyrics from Invasion Of Privacy seem to prove someone crossed her.
In her song "Ring," the lyrics go:
'Cause right now I'm out here tryna find someone, so the ring on my phone, ring on my finger. You actin' like you ain't tryna do either. What's a good girl? Watch me turn diva. Here goes my heart, I put it on speaker.
There are more telling lyrics in the song "Thru Your Phone." Cardi raps,
I don't wanna hear 'bout invasion of privacy. I had a feeling, it turns out you lie to me. I'm holding back everything that's inside of me. How you all f*ckin' with bitches that follow me?
In the second verse, Cardi continues,
You risk your whole home for a h*e from the bar? You really want them h*es? You can have them b*tches, you don't even cheat with no badder b*tches. This sh*t is eating me, you sleeping peacefully.
These aren't the first songs fans thought were about Offset. Cardi dropped her song "Be Careful" on March 30 before dropping her new album and fans automatically took to Twitter to point out some of the lyrics.
Some of the lyrics to "Be Careful" go:
I wanna get married, like the Currys, Steph and Ayesha sh*t. But we more like Belly — Tommy and Keisha sh*t. Gave you TLC, you wanna creep and sh*t. Poured out my whole heart to a piece of sh*t. Man, I thought you would've learned your lesson 'bout likin' pictures, not returnin' texts. I guess it's fine, man, I get the message.
The shaaaaade is real, my friends. Fans may never know what really went down between Offset and Cardi B, but a word of advice – playing Invasion Of Privacy on repeat will definitely keeping your mind off it.