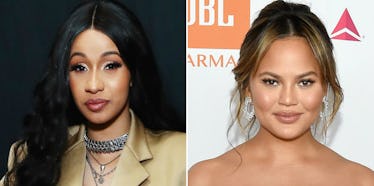 Cardi B Rapped About Chrissy Teigen On Her New Album & Chrissy's Reaction Was Hilarious
ASTRID STAWIARZ/Nicholas Hunt/Getty Images
Cardi B's debut album is finally here! Invasion of Privacy dropped on Friday, April 6, and fans on Twitter absolutely lost it when they heard a line about Chrissy Teigen and Rihanna in the song "She Bad." But the best reaction was of course the queen of Twitter's. Chrissy Teigen's reaction to Cardi B's "She Bad" lyric was so hilarious. She quoted a tweet that included the "She Bad" lyrics about her and Rihanna and said, "Gasp!! *drops biscuits*." Classic Teigen.
Honestly, I don't know what I would do if Cardi B rapped about me, but I would definitely not have held my sh*t together like Teigen did. I also am picturing how perfect a GIF of Chrissy Teigen gasping and dropping a plate of biscuits would be. Someone please make this happen.
"She Bad" is about to become a classic bop. The lyrics about Teigen and Rihanna go,
The one you made, could keep 'em (yeah) / I need Chrissy Teigen. Know a bad b*tch when I see one (yeah, woo) / Tell Rih-Rih I need a threesome / I'm his favorite type of chick / Boujee, bad, and thick (uh) / I could buy designer, but this Fashion Nova fit.
Fans are already obsessed with the song and the shoutouts to Teigen and RiRi.
Here's what I'm dying to know though: What kind of biscuits was Chrissy Teigen holding when she dropped them? (I'm hungry.) Was the tweet a joke, or was she actually eating biscuits at the time?! These are hard-hitting questions and we need answers!
She was legit making biscuits when she heard about her shoutout, guys.
At around 1 a.m. EST on April 6, Teigen tweeted a photo of a batch of biscuits she made and said, "Ohhhh good lord. Watch your back, Red Lobster!!" Um, those look freaking delicious. Then she learned about her shoutout on "She Bad" and tweeted, "Gasp!! *drops biscuits*."
And then she finally revealed what kind of biscuits she made, and she shouted out "She Bad" in the tweet.
She said, "Cheddar biscuits and crab bisque. Bisquits! Bad b*tches make bisque!!!!!!!" Yes, they do, Chrissy. Yes, they do.
People are loving all of Invasion of Privacy.
Lady Gaga also gets a shoutout on the album, but not in "She Bad." The line about Lady Gaga is on the track "I Like It" featuring Bad Bunny and J Balvin.
J Balvin raps, "Pa-pa-pa-pa-razzi, like I'm Lady Gaga." Fans are into the mention.
Cardi B has said in past interviews that Lady Gaga is one of her idols and that she dreams of collaborating with her one day. She said in an interview during the VMAs on Aug. 27, 2017, "If I could collaborate with somebody, I'll collaborate with one of my idols. Definitely gotta be Lady Gaga." Then she panned directly to the camera and said, "I wanna let you know I love you, b*tch." Same.
Lots of people thought Cardi B's Invasion of Privacy album cover took inspiration from Gaga and Beyoncé's "Telephone" music video.
I can't imagine a world where Lady Gaga wouldn't be down to collaborate with Cardi, so I'm praying to the music gods that this happens. Give me "Telephone" Part 2 starring Gaga, Cardi, and Beyoncé!! Can. You. Imagine?
My favorite part of Invasion of Privacy has got to be earlier in "I Like It" when Cardi raps, "I like those Balenciagas, the ones that look like socks." LMAO. She's talking about the Balenciaga sneakers that have no laces and, well, look like socks.
This is basically all of the internet listening to Invasion of Privacy.
Cardi B did that.