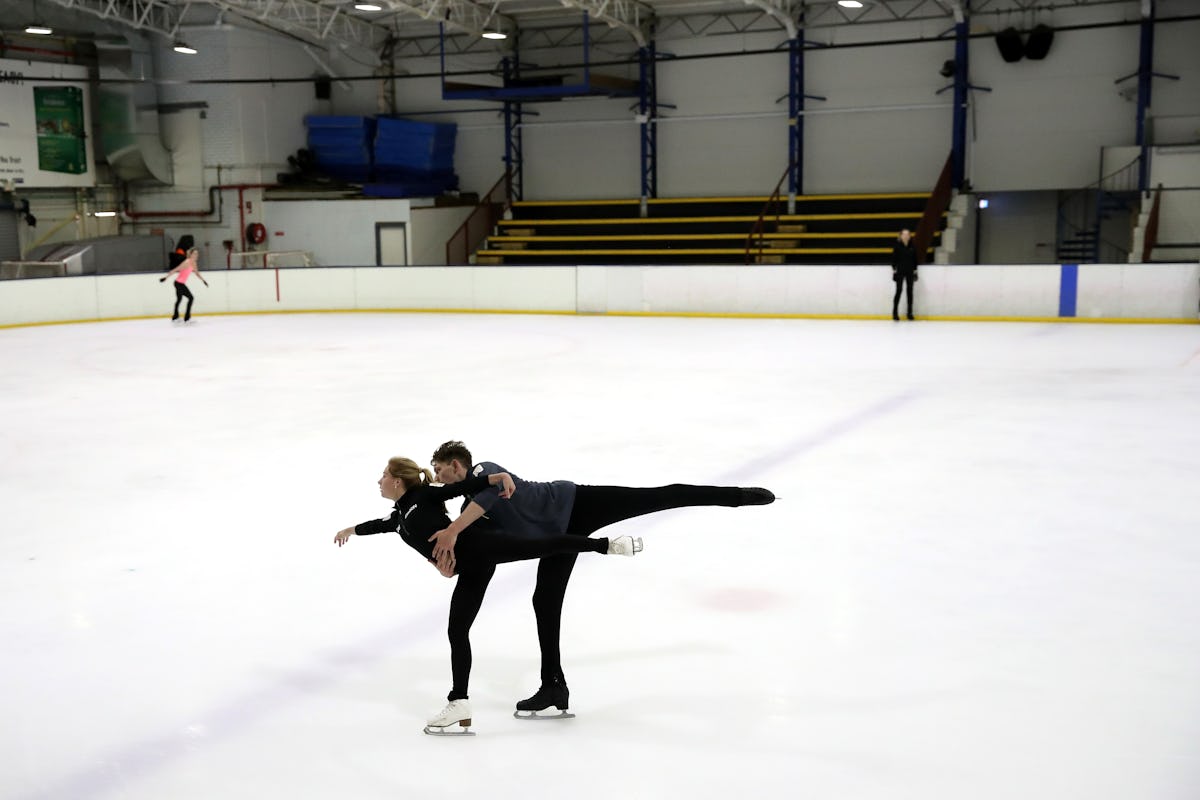 Figure Skating Music Is Getting A Lot More Fun After This Big Rule Change
Cameron Spencer/Getty Images Sport/Getty Images
What is it that makes watching figure skating so relaxing? From graceful movements to amazing stunts, figure skating is the oldest sport in the Winter Olympic games and arguably one of the most popular. However, it's the well-picked tunes that really make those flying leaps and mid-air twirls so impressive. So this begs the question, what are the rules for figure skating music?
Since its Olympic beginnings in the 1908 London Games, the winter sport's rules have only allowed classical, non-lyrical music to be used. However, the PyeongChang Winter Olympics will feature new rules, which allows music with lyrics to be played during routines.
In 2014 the International Skating Union announced that they would allow music with lyrics to play during figure skating competitions. The decision was ultimately reached in 2012, but the union decided to not let the change take effect until the Sochi Winter Olympics had finished. Now as a new season approaches, the option will be available for competitors.
While many competitors opt for the traditional classical music, the option to include lyrical music opens up doors to incorporate many more genres into the skaters' performances. So, we might be seeing quite a few very different figure skating routines at this year's PyeongChang 2018 Winter Olympics.
In fact, the 2018 U.S National Championships has already witnessed the historical change first hand, as skater Jimmy Ma performed his routine featuring Lil John and DJ Snake's "Turn Down for What."
Iconic.
While it appears the younger figure skaters are taking advantage of this new allowance, the ruling caused some mixed opinions among the public. Despite its large audience within the Winter Olympics, figure skating has begun losing viewers over the past few years. Many hope that incorporating lyrics within figure skating routines will lead to increased viewership. Katia Krier, who coaches France's figure skating team, told The New York Times that she views this change as an inclusive way of drawing in a broader audience.
She said,
We have to innovate. Our sport is already losing viewers, but we have to give people the desire to watch us. I think this could help. It's a double-edged sword, of course. We have to be careful not to go over the top, but if music with lyrics is used well, it can really bring something more.
On the flip side, many fear that increased use of lyrical music in routines will result in scaring off the already established fan-base. Figure skating coach Kori Ade also spoke with the Times about her thoughts on the new rule being implemented in the upcoming Winter Games. She said,
I am not a person who is elitist in any way. I'm all about inclusion, and all about diversity, and all about hip-hop. I mean, that's me. But I think that there is something so regal about skating that might not carry with Top 40. I think it's not going to come off well. I think it's going to come off really corny. And even though people don't have to do it, I'm afraid people are going to attempt it poorly, and then it will make the sport look even stupider.
It could be assumed that non-lyrical, classical music lets more attention be put on the skater, since they are the ones having to narrate the story they're telling. While the coaches struggle with determining whether this change will benefit the sport, many of the skaters themselves wonder what this will mean for their future. Former world champion Kurt Browning told the Times in 2014 that it was a mixed bag.
"Lyrics and words artistically are an opportunity," he said. "But it's also a bigger chance to screw up."
No matter the tune, you can catch me on my couch oohing and ahhhing over the figure skaters.
To learn more, visit teamusa.org. The Winter Olympics will air live, starting Feb. 8.