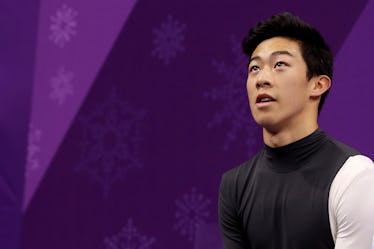 Nathan Chen Had The Biggest Skate Of His Life & You Should See It
Maddie Meyer/Getty Images Sport/Getty Images
On Saturday, Feb. 17 in PyeongChang, South Korea (Friday night in the United States), Nathan Chen performed his free skate at the 2018 Winter Olympics. This was his second and final skate in the individual men's competition as the 18-year-old made his Olympic debut — and it was a high-pressure situation for the young man, who had fallen the day before during his short program. As you can see in the video of Nathan Chen's free skate, it seems he happily did find his redemption on the ice by landing a historic six "quads" (jumps that feature four revolutions) in one performance.
Chen's routine was performed to music from the 2009 film Mao's Last Dancer, a movie based on the autobiography of professional dancer Li Cunxin, who defected from China in the late 1970s. The musical selection was a switch-up from his song of choice for Friday's short program, "Nemesis" by Benjamin Clementine. In an interview with The New York Times, conducted over a span of months before the Olympic Games, the Salt Lake City native said Li's movie's music resonated with him.
"He's [Li] been through a lot of pain and struggles, and maybe that's not super parallel to my life," Chen told The Times. "But I think that mentality of pushing through anything is something I can relate to. Li is incredibly tough; nothing fazes him. That's something I can definitely learn from and not let my emotions get in the way."
During his free skate performance tonight, Chen certainly did push through. His free skate received a score of 215.08, putting him at a total of 297.35 points — an incredibly high score. His historic routine can be watched in the videos below.
Coming into Saturday's free skate portion of the men's individual figure skating competition, Nathan Chen had been ranked in the bottom half of competitors, after a disappointing performance in Friday's short program saw him achieve only the 17th best score out of 30 men.
That short program result was a dramatic drop-off from expectations set for Chen heading into the 2018 Winter Olympics. Ahead of the start of the PyeongChang games, Chen was the talk of major media outlets who touted the 18-year-old as the next big thing in men's figure skating. This was especially the case as the young skater had some quad jumps in his pocket to use — but he could not land the jumps during his short program. Clearly, that changed tonight, after Chen landed six quad jumps.
The Wall Street Journal called Chen the "greatest American figure skater of his generation." Chen also attracted features in ESPN the Magazine, The New York Times, and others.
It's no secret why, either.
At his young age, Chen has become known as a revolutionary, quite literally. During his short program at the 2017 U.S. Figure Skating Championships in Kansas City, Chen became the first competitor to complete five quads in a single routine. A few months later, Chen finished sixth at the 2017 World Figure Skating Championships.
Those performances positioned Chen as the American most likely to win Gold in PyeongChang.
During his short program performance on Friday, however, Chen fell while attempting the first quad of his routine. On two other jumps, he didn't finish with a clean landing. The result? Chen finished the short program round over a whopping 29 points behind Yuzuru Hanyu's masterful performance, which propelled the Japanese competitor to first place.
"I honestly have never been in this position before, so I don't exactly know what to do," Chen said after his short program routine, per ESPN. He added, "Honestly, it was bad. I made as many mistakes as I possibly could have."
Two Americans finished ahead of Chen as well. Vincent Zhou received the 12th highest score for his short program, and Adam Rippon had the seventh highest.
In other words, Nathan Chen had a mountain to climb heading into Saturday's free skate. But with his incredible, historic performance in the free skate tonight, the American prodigy was able to make a huge comeback.