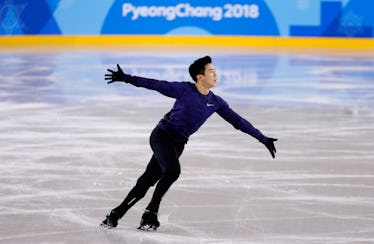 Nathan Chen Skates To Songs As Fierce As He Is
Jamie Squire/Getty Images Sport/Getty Images
On Friday, Feb. 16 in PyeongChang, South Korea, Nathan Chen is making his play to win his first individual medal at his first Olympic Games. He will be doing his short program skate on Friday morning in PyeongChang (Thursday evening in the U.S.) and his free skate on Saturday morning in PyeongChang (Friday evening in the U.S.). Along the way, you'll get to hear Nathan Chen's epic skating songs, which really create the dominant mood that he is trying to show with his incredible skating ability.
Along with his competitors, Chen is doing the short program first, which is just under three minutes long. For that skate (Friday morning in South Korea; Thursday night in America), Chen is skating to the song "Nemesis" by Benjamin Clementine. The song really drives itself forward, which echoes Chen's aggressive routine. The lyrics to "Nemesis" are all about "treating others the way you want to be treated" and karma.
"Here I expose frustration, realization, passion and desperation in knowing when all is but too late," Clementine told NPR about the tune.
If you watched the team competition for figure skating last week, you actually already saw Chen's short program. And if you saw that, you might be a little worried, because Chen didn't have the best Olympic debut with his short program. In the team competition, he fell on a triple axel (which he's struggled with before) and had to turn one of his signature quads into a double. Chen has reportedly been training a lot to get his individual short program down solidly.
You can see his short program from 2017 (to "Nemesis") here:
For his free skate, Chen goes a little more traditional with his song choice.
The free skate, which goes over four minutes, will be taking place on Saturday morning in PyeongChang (airing Friday night in the U.S.). This will be the first time Chen will be performing his free skate at the Olympics (Adam Rippon took over for the free skate in the team competition). For that routine, Chen will be skating to music from the 2009 movie Mao's Last Dancer, which was composed by film scorer Christopher Gordon. (And yes, classical music nerds, that score includes excerpts from Stravinsky's "Rite Of Spring.")
Mao's Last Dancer is based on a memoir of the same name by Li Cunxin, who trained with the Beijing Dance Academy while Mao Zedong ruled China and ultimately defected to the United States. Through his free skate, Chen works to tell Li's story as it's told in the movie and through the movie's score. Chen's parents are from China and immigrated to the United States, giving this song choice even more depth.
You can see him do the free skate to the Mao's Last Dancer score in 2017 here:
"[Li has] been through a lot of pain and struggles, and maybe that's not super parallel to my life," Chen told The New York Times. "But I think that mentality of pushing through anything is something I can relate to. Li is incredibly tough; nothing fazes him. That's something I can definitely learn from and not let my emotions get in the way."
Song choices in figure skating are particularly fraught as they help convey the particular feeling that a skater is trying to evoke. Although it has nothing to do with technical skill, a song sets the stage for the skater — and if a skate takes on a different feel from the song, it could make for an awkward performance, which hurts in a sport that is about artistic interpretation almost as much as it is about technical skill. With his song choices, Chen is throwing down the gauntlet. Now let's just see if he throws down those quads.