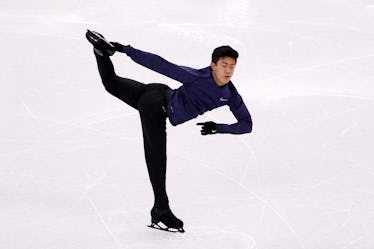 Fans Are Cheering For Nathan Chen On Twitter After His Short Program, & It's So Sweet
Jamie Squire/Getty Images Sport/Getty Images
Now that the 2018 Winter Olympics is in full swing, many people have finally caught on to each event and how they are scored. For me, figure skating has always been my favorite part of the Winter Olympics, but following it can be tricky. And on Thursday, Feb. 15, skaters competed in the short program, which means that each skater is required to complete specific moves in under 2 minutes and 50 seconds. Sounds simple, right? (Just kidding, I can barely complete one trip around the rink on ice skates, let alone perform a triple lutz.) If it sounds hard, that's because it is. So it's understandable that gold medal-hopeful skater Nathan Chen didn't nail his performance perfectly. Nevertheless, the tweets about Nathan Chen's short program prove that his fans are still here for him, and it's so heartwarming.
Chen had a problematic performance earlier on in the Olympics in the team event, and tonight's performance raised the stakes. During his short program, Chen fell multiple times, missing his ambitious jumps and ending with a score that was well below what he had clearly been hoping for.
Chen spoke about his less than stellar team performance, saying that he simply "was a little bit ahead" of himself. In a news conference, Chen said,
It's not customary of me to do (that) in competition ... I think I was a little bit ahead of myself. I need to be a little more present, a little bit more in the moment and hone in on the technical things that I have to think about before the jumps, and I think doing that I'll have better results.
He also stated that he was "upset" about letting his teammates down, but said, "I'm glad I got the opportunity to at least put my program down and learn from it, now all I can do is try to analyze what I did wrong and move on."
From the looks of it, Chen was still having trouble getting out of his own head under the pressure of the Olympic stage. He pulled a decent score of 82.27, which is certainly respectable.
But even if Chen may have been disappointed by his results, the fans weren't disappointed in him.
The tweets were so, so supportive.
It perhaps is worth reminding ourselves that figure skating it really hard.
These athletes are amazing machines that demonstrate the height of human ability by making this business look easy, but this sport is not easy. Even if Chen didn't totally nail each element, it was an amazing sight and he should be beyond proud of his performance. I'm applauding you, Nathan.
The whole "make-it-look-easy" thing probably isn't helped by the fact that it seems like this year's figure skating at the Winter Olympics is filled with legendary performances. Most notable is Mirai Nagasu, who made history on Feb. 11 as the first American woman to ever land a triple axel during the Winter Olympics.
In an interview with NBC after her routine, Nagasu talked about the nerves she felt heading into the rink. She said,
To nail that triple axel, I tripped a couple of times going into it because I was so nervous, but I had to tell myself, 'no I'm gonna go for it, 100 percent, and not pull back, that was really special for me.
Nagasu also emphasized the importance of her teammates, saying "to feel my teammates support, even before I even started, because I almost got a deduction, it was really cool and I love that they tried to help me," and adding, "This is why we're here, to be a part of Team USA and to support each other, so this has been a really cool and unforgettable experience."
Someone on Twitter even found the most epic update on Wikipedia, because honey, she did the damn thing:
Can we maybe please keep this up there permanently? I know anyone can go onto Wikipedia and alter the facts, but let's collectively agree that this should stay. OK? OK.
If you ask me, I'd say that everyone on Team USA has been doing us all proud, and I commend each Olympic athlete for their determination and hard work. Despite the pressure and the stress, these athletes are going up and giving their all, and that alone is worth a cheer.
I'll be spending the rest of my time watching the Olympics with my jaw dropped, wondering how these people perform such incredible feats of strength, while I struggle to reach my wine glass on my coffee table. That's pretty much the only workout I need, nowadays.
Going for the gold, you guys.