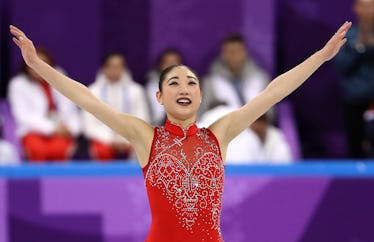 Mirai Nagasu Made History At The Olympics With A Triple Axle & You Need To See It RN
Jamie Squire/Getty Images Sport/Getty Images
You should be watching this video of Mirai Nagasu's 2018 Olympics Triple Axel on loop for the next week straight. Nagasu is the first American woman to ever land a triple axel during the Winter Olympics, a feat she accomplished effortlessly during her figure skating routine on Feb. 11. So, not only is Nagasu an Olympian, but she's officially a part of American history.
After not being selected for the 2014 Sochi Winter Games, Nagasu is clearly here for redemption. Every element of Nagasu's free skate routine embodied grace and ease, with the climax being the triple axel she completely nailed. Only an Olympian could make that move look easy.
Despite it being one of the most difficult moves in all of figure skating, Nagasu knew that the triple axel was the best way to wow the judges and (hopefully) secure her a medal in this year's Winter Games. In an interview with People last year, she talked about her strategy for the 2018 Winter Olympics.
She said,
It's all about the points in figure skating, and how you can outrank your opponents. And the triple is almost twice the points as a double. It's kind of like a board game, and that's my king. So I want to use it as many times as I can.
That was her plan and she stuck to it — now check this sh*t out and prepare to be amazed.
Checkmate, Nagasu.
Let's also take a moment to appreciate her uninhibited hype after that performance. Yes, girl, you better scream.
At just 24 years old, by nailing that move, Nagasu is now in the company of only seven other women who have ever landed a triple axel, according to ESPN. The first — and until now, only — American woman to ever land a triple axel was Tonya Harding, who did so at a national championship in 1991.
The other women who have completed the triple axel at a national competition are Midori Ito, Yukari Nakano, Mao Asada, and Rika Kihira from Japan, along with Ludmila Nelidina and Elizaveta Tuktamysheva from Russia.
Nagasu was clearly thrilled to make history and join their ranks, but in an interview with NBC shortly after she finished the routine, she explained just how nervous she was beforehand.
"To nail that triple axel, I tripped a couple of times going into it because I was so nervous, but I had to tell myself, 'no I'm gonna go for it, 100 percent, and not pull back," she said. In the interview, which you can watch below, the skater also talked about how happy she was to have the support of her fellow Team USA skaters. She could even hear Alexa Scimeca Knierim shout, "you did it girl!" from the stands.
Fans watching at home were just as excited for Nagasu and quickly took to Twitter to congratulate her — including past Olympics figure skaters Ashley Wagner, Meryl Davis, and Kristi Yamaguchi.
Of course, non-Olympians were pumped too.
Many people were quick to praise both Nagasu and Adam Rippon, who performed earlier on Feb. 11 and became the first openly gay figure skater to compete in the Olympics. Both skaters hadn't qualified for the 2014 Sochi Olympics.
Others simply wanted to make sure that everyone out there knows that Nagasu did the damn thing.
What might be most impressive is that this is Nagasu's 2018 Olympics debut, so you'll be seeing her again. Sunday's free skate competition was a team event, and Nagasu was selected to represent the U.S., as was Rippon. That means we still get to see Nagasu compete as an individual, and thanks to her history-making routine, we know anything is possible when she hits the ice.