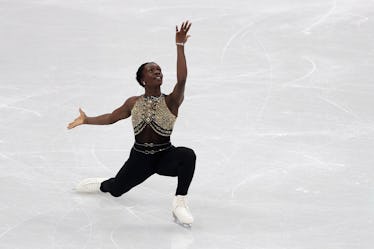 Everyone Is Talking About Beyoncé At The Winter Olympics, But It's Not What You Think
Richard Heathcote/Getty Images Sport/Getty Images
Ice skating is one of the events that I have a slight handle on as I watch the competition unfold during the 2018 Winter Olympics in PyeongChang, South Korea. Granted, most of my knowledge comes from a recent viewing of I, Tonya, but I digress. These performances that require equal parts grace and serious strength can be thrown off if the accompanying music isn't exactly right. Thanks to a new rule change, the viewers heard a familiar song booming through the speakers during French figure skater Maé-Bérénice Méité's recent routine in PyeongChang. This Beyoncé ice skating routine at the Winter Olympics is a fierce display of Olympic girl power.
Méité competed in the ladies single skating short program on Sunday morning in PyeongChang (which was Saturday night in the U.S. since PyeongChang, South Korea is 14 hours ahead of U.S. Eastern Standard Time), and people are lauding her for more than her impressive skill on the ice. Méité glided through her routine as Beyoncé's "Run The World (Girls)" and "Halo" played throughout the stadium, according to Elle. Although she hit a few hiccups in her performance, Méité got right back up and gave each jump her all — with support from ice skating aficionados and Beyhive members alike.
With the sounds of Queen Bey playing, people were quick to give Méité props for a fun and fierce performance.
Méité is able to use these Beyoncé jams (with lyrics) thanks to a 2012 International Skating Union rule change that allows skaters to use music with lyrics during their routines (something that was previously against the rules). Even though the rule was decided in 2012, the change didn't take effect until after the 2014 Sochi Winter Olympics, so the 2018 PyeongChang Winter Olympics is the first Olympic competition to see music with lyrics allowed in skating performances.
I think I speak for many people when I express my excitement over this rule change that produced Méité's girl-power performance. Méité also performed her Beyoncé ice skating short program at the European Figure Skating Championships in Moscow in January.
Cosmopolitan.com spoke with the Olympian shortly after her most recent performance in PyeongChang, and they got some insight as to why Méité chose the Beyoncé tracks for her performance. Honestly, you don't really need a reason to play Beyoncé, but Méité is a professional and she explained that she relates to Beyoncé's music because it is "crazy, wild, and fun." Sounds like a perfectly good enough reason to me. Méité elaborated her reasoning for the Bey tracks when she said, "You can just dance to it, and that's how I am."
Of course, people are familiar with dancing to Beyoncé's music, but Méité skating to "Run The World (Girls)" at the 2018 Winter Olympics in PyeongChang had people calling her performance iconic from the first jump.
"From the moment I saw you wearing that jumpsuit, I knew you were gonna be iconic, and then you go and skate to Beyoncé..."
"...Who is this skater from France skating to Beyoncé in the best costume I've ever seen?"
"Black girl magic at the #Olympics2018!"
If the 2018 Winter Olympics is your first introduction to Méité, then you should take this opportunity to check out her social media presence, specifically Méité's Instagram account, and see what other fun she has with particular music choices.
Even Olympians celebrate Fridays with a little song and dance.
Méité also appreciated the kind words about her figure skating short performance in PyeongChang, and she took to Twitter to thank everyone for the support.
Unfortunately, Méité had a couple of falls in her performance and placed ninth in the competition, but according to her profile on the Olympics website, Méité's philosophy (as gathered from her Facebook page on Oct. 2, 2017) is, "Conquer today, repeat tomorrow," so she'll definitely keep working hard on the ice throughout the duration of the 2018 Winter Olympics in PyeongChang.
And if Méité keeps pairs her natural ice skating talent with Beyoncé again, I'm certain it will always be a winning combination for her (now growing) fanbase.