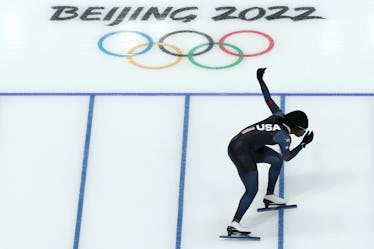 These 35 Winter Olympics Captions Will Get You The Gold On Instagram
Cheering on Team USA has never been easier.
Dean Mouhtaropoulos/Getty Images Sport/Getty Images
Since the 2020 Summer Games were pushed back to 2021, it seems like we just had an Olympics, but now it's time to root for your favorite athletes at the Winter Games. For fans of ice hockey, skiing, and figure skating, you have a lot to look forward to when the Olympics officially kicks off with the opening ceremony Feb. 4. You may even be documenting your at-home watching on the 'Gram, for which you'll need some Winter Olympics 2022 captions.
If these games are anything like the Tokyo 2020 games, you can also expect a lot of fun TikToks from the athletes to pop up on your FYP or viral trends you'll want to try out for yourself. Whether you're posting a selfie from your Olympic Games party with your roomies or creating an LOL-worthy Insta Reel, you'll need a Winter Olympic caption to go along with it. These 35 inspiring Winter Games quotes can even be used with snaps from your planned ski trip or date night at the skating rink. Even if you only post foodie pics to the 'Gram, these Winter Olympics 2022 captions can go with your winning dish.
While a post with just a generic caption will get you some likes from your friends, well thought out Olympics quotes will get you the gold. So, what are you waiting for? Throw on your red, white, and blue hoodie or some SKIMs Winter Olympics loungewear and get to sharing your Team USA posts.
"Ready, set, gold!"
"Let's snow for the gold."
"Gold has a nice ring to it."
"Snow man is getting in the way of me watching the Olympics."
"If watching the Olympics was an Olympic sport, I'd win gold."
"I'm never board watching the Olympics."
"These athletes are un-brrr-lievable."
"I après-ciate all the hard work that goes into the Olympics."
"These games have taken a piste of my heart."
"If you think your team's gonna win, don't gold your breath."
"Ski ya later. I've got the games to watch."
"Life is skate right now."
"I love the Winter Olympics snow much."
"With great powder comes great responsibility."
"'Tis the ski-son to watch the Olympics."
"When the Olympics are happening, my ice are glued to the TV."
"I'm all about that half pipe life."
"Winning doesn't always mean being first. Winning means you're doing better than you've ever done before." — Bonnie Blair
"There's snow one like Team USA."
"Having a winter-ful time watching the 2022 Olympics."
"Don't be piste if you lose to Team USA."
"We are the champions, my friends!" — Queen, "We Are the Champions"
"You can't put a limit on anything. The more you dream, the farther you get." — Michael Phelps
"First is the worst. Second is the best."
"I always try to start out with some type of goal. Then I work backward and think of what I need to do to get there, and give myself smaller goals that are more immediate." — Kristi Yamguchi
"Without passion, you won't do something 100%. That's the bottom line." — Apolo Anton Ohno, Zero Regrets: Be Greater Than Yesterday
"Some people attach snowboards to their feet, very few attach them to their souls." — Shaun White
"Every four years or so, I care about sports."
"I glove watching the Olympics."
"I'm on board with watching the Olympics."
"It's all downhill from here."
"Gold matches my 'fit more than silver."
"We like sportz and we don't care who knows." — The Lonely Island, "We Like Sportz"
"One single thread of gold tied me to you." — Taylor Swift, "Invisible String"
"Part of being a champ is acting like a champ." — Nancy Kerrigan