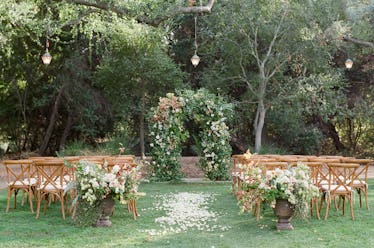 You'll Cringe So Hard At These Wedding Planners' Most Challenging Requests From Couples
As the temperatures outside being to rise, flowers start to bloom, and the snow melts away, the greatest time of the year is upon us: It's wedding season, y'all! A time of year that's filled with gorgeous floral arrangements, bad DJs, and all the cake you can dream of. It's a wonderful time, but for those in the wedding industry, it can also be v stressful, especially when working with couples who are — how can I put this — demanding. OK, that's harsh, but hearing about these wedding planners' most challenging requests from couples might just have you gasping out loud.
Let me be clear: When it's your wedding day, you should be able to celebrate on your own terms. But there's something to be said about following your heart, while still remaining respectful of those who work so hard to make your special dream a reality. From getting upset at pregnant bridesmaids, to making outrageous demands from guests, there are some lines are difficult to uncross. .
I asked a few wedding planners about the most outlandish, cringe-worthy request they've ever gotten, and trust me, their responses were absolutely jaw-dropping. These wedding planners have seen it all.