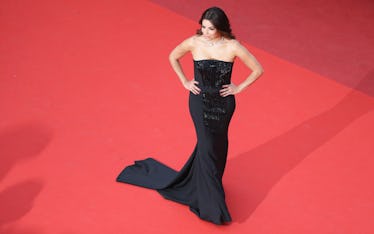 Your Favorite Celebs Want You To Wear Black To Watch The Golden Globes & Here's Why
Andreas Rentz/Getty Images Entertainment/Getty Images
Today's the day that Hollywood's awards season finally kicks off with the 75th Annual Golden Globes. If you usually tune in with a Golden Globes watch party of your own, then you have a quick dress-code change to make before you start popping that popcorn. You can still stick to your ultra-comfy sweats and tee-shirt ensemble — but if you want to support a good cause while watching your favorite celebs on the red carpet, then you might consider wearing black to watch The Golden Globes to support Time's Up this year.
You've already heard that both women and men will join one another in an awesome show of solidarity by wearing black to The Golden Globes this year in the wake of the #MeToo movement. Following the flood of bombshell sexual assault and harassment allegations coming out of Hollywood (and many other industries), the actresses and actors decided to take a stand. "Blacking out" The Golden Globes is just the first step in tackling this huge issue.
The black out isn't reserved only for the rich and famous on the red carpet, though. Celebrities like Amy Schumer, Rosario Dawson, and Eva Longoria have invited you, the at-home viewers, to join dressing in black to watch The Golden Globes, according to Refinery 29.
Dawson shared a compelling video on her Instagram page to expand upon why you should wear black to watch The Golden Globes on Sunday, Jan. 7.
On Jan. 1, 2018, The Time's Up initiative and legal defense fund was announced by more than 300 actresses (in a show of major girl power) to support women in every industry as they combat and speak out against workplace sexual harassment. So, while the actresses will forgo the razzle-dazzle on The Golden Globes red carpet this year (and hope you join in at home), they want to let people know that there is a serious reason behind it, and they will no longer go unheard. As Dawson says in her video, wearing black helps symbolize:
That the death knell has struck on abusive power and that it's time to celebrate each other...our storytellers who have bravely come forward and courageously shared their personal stories, which have liberated so many of us.
Longoria shared with The New York Times that this is "not a fashion moment." She continued to explain that women have continually been the face of these award shows with their dresses and glamour, but that will not be the case on Sunday night, according to Entertainment Tonight. As she said, "This time the industry can't expect us to go up and twirl around."
While Longoria and her fellow actresses take back their power on the red carpet by walking it as symbols of solidarity (and not living mannequins), they'll also be sporting a specially made Time's Up pin to truly hammer home the meaning of the black out. Longoria reiterated her hope of public involvement on Twitter by retweeting a Time's Up post that encouraged home viewers will join in wearing black.
If you need one more push to convince you that "blacking out" your own Golden Globes party is the way to go, then look no further than Amy Schumer's Instagram post.
Schumer posted a lengthy commentary alongside a childhood photo of her mother and herself (both wearing black, of course), and she shared one of her reasons she's motivated to wear black:
We wear black in solidarity with men and women asking for equality, respect and meaningful change within all industries.
To close, Schumer also pushed home viewers to wear black and to post the shows of solidarity on social media with the hashtag #TimesUp.
There is no doubt that The Golden Globes red carpet will have a much different look than past awards shows, but the reasoning behind it couldn't be better. As you round up your best Time's Up black ensemble, don't forget to consider donating to the Time's Up fund to become another voice speaking out against the culture of workplace sexual harassment.
As hush money and silence become a thing of the past when it comes to covering up sexual misconduct, it's clear that speaking out and taking a stand is turning into the new normal. By supporting the cause — even if it's just by wearing black tonight — you're joining the growing number of voices that are signaling to sexual harassers and assaulters everywhere that their time is most definitely up.