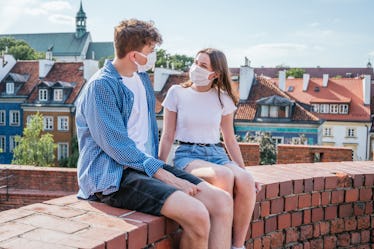 Here's How To Feel Confident & Sexy While Wearing A Mask On A Date
Shutterstock
Without a doubt, masks are a major blessing when it comes to dating in 2020. They're making it safer to meet up IRL with your current crush, which is obvi something to be grateful for. That said, these face coverings also pose a bit of a conundrum – namely, how are you supposed to feel confident when you're wearing a mask on a date? Fret not, because dating coaches say it is possible to prioritize your health and safety without sacrificing your appeal.
That's good news, considering that the Centers for Disease Control and Prevention is still maintaining that wearing cloth face coverings in public is key to reducing the spread of COVID-19. There's been increasing evidence that wearing masks helps to prevent people who have the virus (even if they're asymptomatic and don't know it) from spreading it to others. The only problem? Your mouth, as it turns out, plays a big role on dates — because it contributes to how you communicate and emote. It makes those flirtatious smirks and captivating smiles possible.
Fortunately, there are lots of ways to look fly AF while also protecting yourself as well as your date. If you're going to be wearing a mask, heed these expert-approved tips for boosting your confidence in a big way.