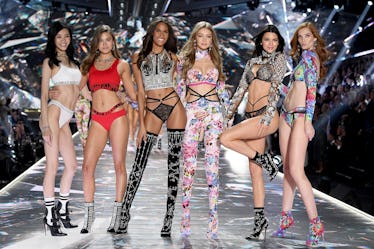 Victoria's Secret Angels Reveal Their Favorite Beauty Products, So Prepare To Add To Cart — EXCLUSIVE
Dimitrios Kambouris/Getty Images Entertainment/Getty Images
On Thursday, Nov. 8, a hoard of stunning models took to the runway to film the 2018 Victoria's Secret Fashion Show. Set to air on ABC on Sunday, Dec. 2, at 10 p.m. ET, the show features elaborate, colorful designs, mesmerizing effects, and a lineup of killer musical performers. Backstage, however, is a whole other makeup, hair, and laughter-filled show. Ahead of this year's production, Elite Daily headed backstage to chat with some Victoria's Secret models, who revealed their favorite beauty products that they absolutely can't live without. If a Victoria's Secret Angel can't live without it, I'm gonna be real, I probably can't either.
Even better, every product the models listed off was supremely affordable. No, seriously, I'm talking all-under-$25 affordable. Not a $100 moisturizer in sight. So as we approach Black Friday, the holiday season, and, consequently, the airing of the 2018 VS Fashion Show, peep these recommendations from the VS models themselves and prepare to hit "Add to Cart" so fast, you might sprain your finger. (Kidding, please don't sprain your finger.)
Water
Not a moment after I ask Victoria's Secret Angel Josephine Skriver about her holy grail beauty product does she say, "Water." Although you may wonder why "water" was an answer to her favorite beauty product, Skriver clarifies how instrumental water can be in anyone's beauty routine.
"I spray it on my face before I put on [anything]. It sucks in the serums better [and] puts on the products better," she tells me "All you really want is good skin. I don't want makeup to be a mask, I want it to be a beauty enhancer and ... make me feel better, so water clears it all up."
Benefit Cosmetics Precisely, My Brow Pencil
Starting her journey with Victoria's Secret in 2012 and officially becoming a Victoria's Secret Angel in 2015, Jasmine Tookes first tells me she has "too many" favorite beauty products to narrow it down. But after some thought, she's able to pick just one.
"I cannot live without an eyebrow pencil," she tells me, continuing that her go-to pencil at the moment is none other than Benefit Cosmetics' Precisely, My Brow Pencil ($24, Benefit Cosmetics), a dual-sided brow brush and twist-up pencil that allows you to fill in brows with tiny, hair-like strokes for a natural brow look.
Forever 21 Lip Gloss
Breakout model Winnie Harlow walked her very first runway with Victoria's Secret this year, and as a surprise to literally no one, she absolutely killed it. Considering we'll certainly see a lot more from Harlow in the coming weeks, months, and years, I was eager to learn her holy grail product, which, naturally, was poppin'.
Harlow tells me she can't live without lip gloss in her life. When I ask her favorite type, she says there are a few, but she names a specific one first that surprised me a lot.
"My all-time favorite is literally something from Forever 21. My best friend ... she found it and let me use hers, and I was like, 'What is this?! You need to find more!'" she says. "I think they discontinued the shade, but it's the perfect nude lip gloss."
While she didn't specify the exact type of lip gloss from Forever 21, the brand carries a ton of variations that you can see here. Harlow also credits Fenty Beauty's Gloss Bomb ($18, Fenty Beauty) as another one of her absolute loves.
Coconut Oil
On Nov. 8, 2018, longest-running Victoria's Secret model Adriana Lima celebrated her very last walk down the iconic runway after 20 years. Fortunately, Lima didn't depart without sharing her own holy grail beauty product.
Lima tells me that she considers coconut oil her go-to beauty product, confirming she uses it for literally everything. Given the fact that coconut oil can be used as a body oil, a defense against dry skin and hair, a makeup remover, and even more, I'd say Lima's not wrong.
L'Oreal Paris Unlimited Mascara
A Victoria's Secret Fashion Show newcomer hailing from Melbourne, Australia, Duckie Thot is already a major force to be reckoned with in the fashion and beauty industries, debuting in the Yeezy SS '17 show and starring in a Fenty Beauty campaign. Needless to say, Thot knows a thing or two about beauty.
She says, at the end of the day, mascara is her number one love, specifically L'Oreal Paris' Unlimited Mascara ($13, L'Oreal Paris). Boasting an "instant lash-lift effect," the power to length the look of lashes, and a bendable wand, this mascara is no effing joke, to put it bluntly.
I don't know about you, but I've definitely got some shopping to do.