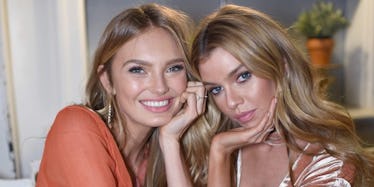 VS Angels Reveal 3 Things You Must Do Every Morning To Have Perfect Skin
Victoria's Secret
I'm not sure if you've noticed, but Victoria's Secret models are perfect in every way.
They have perfect bodies, perfect hair and, of course, perfect skin.
When I look in the mirror, I see a giant potato. When they look in the mirror, they probably see heaven's angels.
Speaking of angels, I was able to sit down with Romee Strijd and Stella Maxwell to talk about VS's new Dream Angel Collection.
While chatting, the ladies filled me in on their morning routine and the three steps they take every day to achieve flawless skin.
1. Moisturize, moisturize, moisturize.
The 21-year-old Romee revealed she actually moisturizes her face twice a day -- once in the morning when she wakes up, and once before going to bed.
Stella Maxwell admitted she is also a big fan of moisturizer. When asked about her morning routine, the model explained,
It depends what I'm doing, if I'm working or traveling... but I always wake up and take a shower. I shower every day because I'm usually in hair and makeup most days, so I usually have to wash it out and refresh.
She continued,
I'll wake up, shower, brush my teeth, moisturize my face really well... I usually put on a little concealer and some mascara just to feel a little more prepared for the day.
2. Use a hydrating face mask.
If Romee has time in the mornings, she'll usually use a hydrating face mask after she moisturizers her skin. She shared,
I kind of am a morning person because I always like to wake up early and have breakfast, so I guess that's the first thing I do... and then, I will wake up a little and moisturize my skin and sometimes do a hydrating mask if I have time.
Moisturizer, breakfast AND a hydrating mask?! Damn, these girls must wake up early.
3. Apply Rosebud Salve to your lips.
Want smooth and luscious lips for the next time you make out with your BF?!
Buy some Rosebud Salve from your local beauty store to do the trick.
Romee Strijd says she keeps it simple. She told Elite Daily,
I really like to use a Rosebud Salve on my lips and a moisturizer. I don't really do much [after], just splash my face with water.
If you haven't heard of Rosebud Salve, get yo' ass to Sephora ASAP. The multipurpose lip balm soothes dry lips and skin and heals irritation.
Rosebud Salve, $6, Sephora
You can literally put it anywhere... your lips, elbows, knees. But don't get too crazy with it, kids. Everything in moderation.
So, there you have it. Follow these three steps every single day of your life and MAYBE, just maybe, you'll have the skin of a Victoria's Secret Angel.
Also, be sure to check out the new Dream Angel Collection in stores now. The models wore the lace-up bra when I spoke with them, and I was about to rip it off and run away.
Thanks for all the inspiration, Romee and Stella. Let's get lunch again soon.