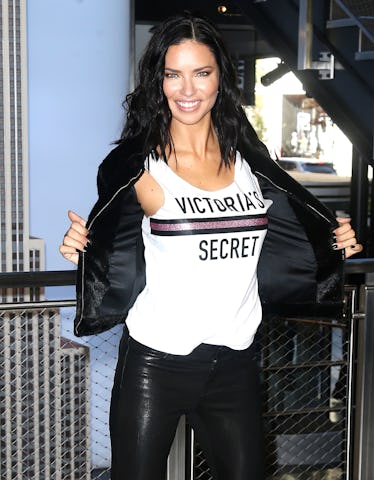 Adriana Lima Reveals The Touching Reason She's Nervous About The 2018 VS Fashion Show — EXCLUSIVE
Broadimage/Shutterstock
As Victoria's Secret's longest-running model, you'd think Adriana Lima would consider strutting down the runway a walk in the park at this point. While that may be true in recent years, the stakes are a little bit higher for her in 2018. While getting her hair and makeup done backstage this year, Adriana Lima reveals the sweet reason she's nervous about the VS show to me, as hairstylists and makeup artist primp her hair and complexion to perfection. And I'm not gonna lie. If I were in Lima's shoes, I'd be a little nervous, too.
"I get anxious," she tells me when I ask about the scariest part of walking down the runway. "This year, for me, my children [are] gonna be watching, and I want to make them proud. So I'm a bit nervous about it."
Naturally, having her kids watching her strut on a runway is a huge , nerve-racking moment. But it only makes sense Lima would have her two daughters watch her very last walk down the Victoria's Secret runway. On Nov. 8, 2018, Lima announced via Instagram that she is retiring from the VS runway in an emotional Instagram post captioned, "Dear Victoria, Thank you for showing me the world, sharing your secrets, and most importantly not just giving me wings but teaching me to fly. And all the ❤️ to the best fans in the 🌎! Love, Adriana 💖"
Nervous as she may be for this year's show, I'd venture to say that, considering Lima has been walking Victoria's Secret shows like nobody's business since 1999 — and was even named the most valuable Victoria's Secret Angel by one study in 2017 — she'll go out with a bang and make her babies proud.
Although Lima can clearly be considered a powerhouse model in the fashion and beauty industry with a killer sense of style now, she tells me it took some time for her personal style to become, well, as fire as it is.
"Growing up, you know, [when] I started in the business, I was like 15. So … I had no notion about fashion and designs, because, where I come from, we don't have fancy stores really," she says. "So I probably made a lot of fashion mistakes. But you know, I wasn't aware of [them]. And I think I still make mistakes sometimes." I'd say, though, that, in 2018 at least, fashion "mistakes" could be considered a thing of the past, as we all continue to embrace whatever makes us happy and confident.
As Lima refined her sense of style throughout the years, it seems she was pulling inspo from some pretty iconic sources. When I ask her about some of her biggest fashion inspirations, she gushes about her love for Lauren Bacall, Sophia Loren, and Marilyn Monroe. "I like that old Hollywood glamor," she says.
As mentioned before, Lima is one of Victoria's Secret's longest-running models, which means she knows a thing or two about ensuring her beauty routine is on point. Lucky for all of us who are trying to cop whatever's in Lima's makeup bag, her holy grail beauty product is something most of us already have: coconut oil, which she says she uses for literally everything.
If you're eager to see how this super special show turns out for Lima, you can tune in to ABC on Sunday, Dec. 2, at 10 p.m. ET to watch the 37-year-old and the rest of this year's Victoria's Secret models tear it up on the runway.