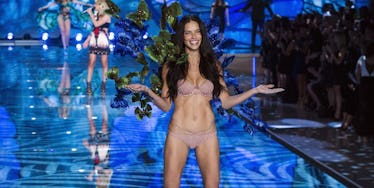 Adriana Lima Revealed The Secrets To Her Daily Beauty And Wellness Routines
Reuters
We can't all be Adriana Lima, but at least we can treat our bodies as well as she does. Take it from this veteran Victoria's Secret Angel, looking and feeling good inside and out isn't easy. But it's incredibly important when it comes to living a long, happy life.
According to an interview Lima did with The Cut, this mommy and model makes health and wellness a huge priority. So yeah, she's probably not going to be falling asleep underneath a pile of empty Doritos bags every night.
We have to be real with ourselves, models don't do the stuff normal people do every day, but they do have to work at wellness like the rest of us. She even says it herself,
I don't go out every night partying. It's so important to have beauty sleep.
Lima starts her day early at 7 am. She handles her surprisingly simple beauty regimen and gets her kids ready for their day. She likes to have an avocado, whole milk and honey smoothie for breakfast with lots of ice -- but this wasn't something she started doing in her 20s. Lima grew up in Brazil drinking smoothies like that, and now her kids love them too.
Prioritizing health and wellness started early for her. She knows how certain foods will affect her skin, hair and even her longevity.
If she's not drinking avocado smoothies, she'll have something like an omelette with asparagus and okra. But no matter what, she always has her coffee with honey instead of sugar to stabilize her sugar levels. I'm going to have to try that now.
In terms of skin care, Lima only puts on sunblock in the morning before her workout -- no makeup -- because she knows she'll be sweating a lot. Her go-to workouts are boxing, running, burpees and shadow boxing, but it took her a while to figure out what workouts work best for her. Like most people, Lima didn't love it when she started.
Apart from sunblock, Lima uses a facial cleanser, serum and light moisturizer from Hervé Hérau, her "facial guy" in Paris.
Above all, consistency is key for Lima. She knows what works for her body and sticks with it. You don't have to be a model to achieve health and wellness in your life. You just need to decide that's what you want and commit to it.
Citations: Adriana Lima's Biggest Wellness Secret (The Cut)