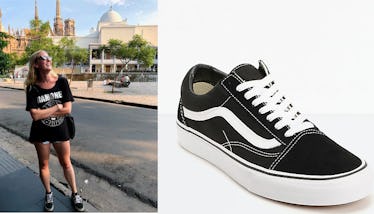 Vans Sneakers Are The Only Shoe I've Worn In 2018 & I Don't Miss Heels At All
I am serious when I say that I have worn the same pair of shoes for 68 of the 70 days that have passed in 2018 thus far. I've traveled to three different countries since Jan. 1, and my Vans Old Skool sneakers have literally been with me every step of the way. Except when I exercise, which is so infrequently that I really don't even count it, but I digress. From exploring cemeteries in Buenos Aires to nights out dancing in Córdoba to walking along the rocky shores of Lima, they've been on my feet during some of my most favorite experiences. And while they've certainly seen better days, they've proven to be the most versatile and comfy footwear I've ever owned — I'd give up my treasured pair of white Calvin Klein boots any day for a lifetime supply of Vans sneakers.
Vans Old Skool Sneaker, $60, Vans
When I was packing for a year of global travel with a program called Remote Year, I knew that paring down my wardrobe would be a challenge, especially when it came to footwear. How could I possibly pack a minimal number of shoes that would cover me for everything I was about to encounter? I decided upon my pair of Nike running shoes, my Rainbow flip flops, my Vans, and a new pair of black sandals, which I ordered from ASOS. When the sandals didn't come in time (they arrived to my dad's house the day after I left), I figured I would just have to buy a pair upon touching down in Argentina. But now, two and a half months later, I still have yet to buy said sandals because Vans rule.
While I realize that Vans have transitioned from being a cool and unexpected sneaker choice to a standard wardrobe mainstay, I could care less. It doesn't matter to me that over half of my friends own a pair, or that my friend's parents own them, for that matter. I'm sure skateboarders, for whom the shoes were originally designed, might feel otherwise, so I want to send them a big "thank you" for letting us all usurp their footwear style. Skatewear has become hugely influential within the fashion industry as of late and my personal style definitely reflects it.
The thing about classic black and white Vans Old Skools, though, is that they truly go with anything. They are to me what the Adidas Stan Smith sneaker was to the entire industry circa 2014 (and still today, really), meaning I wear them with my fanciest dresses and rattiest denim shorts alike. My style is definitely '90s-inspired, so they're my perfect match.
An outfit I keep repeating involves my Vans, my oversized Ramones shirt, and my absolute favorite pair of Le Specs x Adam Selman sunnies. It's super easy, super comfy, and super practical for a day spent exploring a new city.
I've also paired them with my denim skirt, various shirts (I usually switch between one with black and white stripes or a solid black crop top), and a pair of geometric earrings on my multiple occasions. Below, I wore them to an incredible bar in Buenos Aired called Uptown — it is New York-themed (you enter through a New York City subway car) and one of my favorite spots to dance to date.
My favorite thing to wear Vans with, however, is dresses, the top one being my sunflower dress that I bought for $3 at Goodwill a few years back. Together, they make all of my 90s grunge babe dreams come true. If I want to dress up the look slightly, I'll throw on some gold hoop earrings in place of my choker. (Also, enjoy this cute dog.)
Another one (in DJ Khaled's voice):
Only time will tell if I will ever get sick of wearing the same shoes every day — but I don't see it happening any time soon.