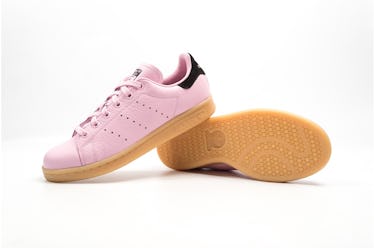 Adidas Dropped Cotton Candy Pink Stan Smiths & They're About To Blaze Up Instagram
Foot District
My dream summer aesthetic would have to be Mariah Carey at the carnival in her hit song "Fantasy." I wouldn't be able to effortlessly bop around a carnival in roller blades, but I could rock a pair of Adidas Stan Smiths in cotton candy pink. Brb, I need to convince my friends that this summer's goal is to totally recreate Carey's iconic '90s carnival video.
When "Fantasy" dropped, I was way too young to even understand the impact that Carey made in the fashion and beauty industry. I was a full-fledged fashionista by the end of the '90s though, and Adidas was my first foray into what is now a thriving "sneaker culture." Unfortunately, I couldn't keep up with my Adidas habit. In my younger years I "grew like a weed" (as my Grams would say), and buying a new pair of Stan Smith sneakers every couple months was not in the budget. Now that I'm older, my feet have ceased growing, and I can afford my own bad shopping habit. You can see why I'm beyond excited for the launch of Adidas Originals Stan Smith sneakers, in a cotton candy pink colorway. Pink is my color, after all.
The brand new colorway, which is out now, is an updated version of the timeless Stan Smith model. The new pair come in a pink, black and gum color scheme. I'm a writer by day, and a color aficionado by night, so in my eyes, this pink shade falls in the cotton candy range. It doesn't classify as a "bubblegum pink" color because that shade is a richer hue. This Stan Smith colorway falls in the pastel, baby pink range. See what I mean?
The shoe's top half comes in pink leather, alongside pink laces and pink inner lining. The iconic perforated Three Stripes are on the side of the shoe. A black heel and tongue branding finish off the design as the accent color. The pink and black juxtaposition reminds me of the "Pink Ladies" jacket from Grease, which I'm so here for. Gum rubber outsoles finish off the shoe, which in the beginning threw me off a bit. The more I admired the silhouette, I actually began to dig the shoe overall.
Adidas Stan Smith sneakers are one of the most recognizable shoes in the brand. Stan Smith, an acclaimed tennis champion, is the face of the shoe. Originally they were considered to be a tennis shoe, but obviously people sport them just for the style statement all the time.
The versatile style has remained a staple in the closets of sneakerheads over the years, but it became ubiquitous among the fashion set when Adidas relaunched the sneaker in 2014. The silhouette isn't as sleek as a pair of Keds, but I would highly recommend rocking them with midi dresses and distressed jean skirts in the summer. The simple design will add a sporty look to more feminine items, but it won't look like you're actually headed to SoulCycle.
Adidas Stan Smith, $90, Adidas
If you really want to up your Instagram summer pictures, I think a prime photo would be rocking these shoes with a cotton candy swirl bigger than your head. For the love of social media, actually, eat the cotton candy after. A little cotton candy never hurt anyone!
If you want to grab a pair of these sneakers head over to the Adidas website. The Adidas Stan Smith are a specialty pair, so I advise you purchase them stat. Once they go viral (because they absolutely will), you'll be wishing you picked up a pair when you had the chance.