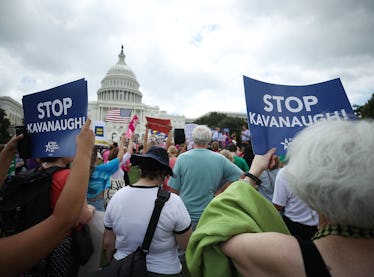 Nationwide Rallies Are Fighting Against Brett Kavanaugh's Supreme Court Nomination
Mark Wilson/Getty Images News/Getty Images
Ever since President Donald Trump's July 9 announcement that he would be nominating conservative stalwart Brett Kavaugh for a lifetime position on the Supreme Court, people have been worried about the future of their rights. Considering the judge's controversial track record regarding abortion, reproductive rights, and health care, it's not surprising that left-leaning groups are banding together to create what looks to be the largest single-day protest of a Supreme Court nominee in history. On Sunday, Aug. 26, Unite For Justice rallies are fighting for reproductive rights all around the country, and the scale of the #StopKavanaugh movement provides that the fight isn't over.
On Sunday, over 75 organizations are coming together all across the United States as part of a grassroots effort to make their voices heard and halt the nomination of the controversial judge, per a press release. According to the National Abortion and Reproductive Rights Action League (NARAL) Pro-Choice America, select members of Congress will be joining the fight to protest the ultra-conservative policies of Kavanaugh, whom President Trump has slated to take over the Supreme Court spot that was vacated when Justice Kennedy retired on July 31, 2018, per MSNBC.
"Brett Kavanaugh is the least popular Supreme Court nominee in recent history whose nomination is being rammed through over protests of a corrupt process because Donald Trump and the GOP know that this nomination won't withstand scrutiny of a transparent and public process," NARAL Pro-Choice America President Ilyse Hogue said in a press statement.
Considering that Justice Kennedy, while conservative, has often been the swing vote on a number of important issues like same-sex marriage, abortion, and affirmative action, Kavanaugh's nomination could have widespread repercussions for more progressive movements. His voting record speaks for itself. Previously, Trump promised to appoint Supreme Court justices who would overturn the landmark abortion rights case, Roe v. Wade, and in 2017, Kavanaugh voted against allowing an undocumented woman to get an abortion in Garza v. Hargan, which makes people believe he could be inclined to overturn Roe v. Wade.
"People across the country understand the damage he will do to our rights, our lives, and our fundamental freedoms," Hogue continued. "Brett Kavanaugh will vote to end Roe v Wade, criminalize abortion, gut the Affordable Care Act, roll back LGBTQ rights, and decimate the Voting Rights Act and Affirmative Action." In 2015, Kavanaugh dissented to a decision that upheld the requirements of the contraceptive mandate of the ACA, which means that Kavanaugh sided with employers who opposed providing birth control for religious reasons. Although, he also stated that the government was still allowed to require employers' insurers to provide contraceptive care in those instances.
Unsurprisingly, voters from coast to coast are mobilizing to make their voices heard under the umbrella of MoveOn.org, since Kavanaugh has shown at times that his concern for religious liberty takes precedence over access to birth control coverage. According to a CNN poll, Kavanaugh is the most unpopular justice pick in decades, and people are rallying "all across the country—from a postcard party in Texas; a BBQ in Birmingham, AL; and rallies from Portland, ME to Anchorage, AK and everywhere in between," per a NARAL release.
The MoveOn.org and the UniteForJustice.org websites include a page containing a map of the approximately 310 events and counting that are happening across the country on Sunday.
Previously on Friday, Aug. 24, members of Congress called for the postponement of a Supreme Court confirmation hearing for Judge Brett Kavanaugh, citing possible "criminal wrongdoing," per USA Today. Senate Judiciary Committee Chairman Senator Chuck Grassley (R-Iowa) said,
Given the possibility of criminal wrongdoing by the President, doubts that Judge Kavanaugh believes a president can even be investigated, and the unprecedented lack of transparency regarding this nominee's record, we should not move forward with hearings on September 4th.
This statement speaks to the recent guilty plea on charges of financial fraud — that include hush money payments to Karen McDougal and Stormy Daniels — from former Trump lawyer Michael Cohen on Tuesday, Aug. 21. Trump and the White House have repeatedly denied having affairs with either of the women, and Trump's lawyer Rudy Giuliani, per NYT's Maggie Haberman's Twitter account, said, "There is no allegation of any wrongdoing against the President in the government's charges against Mr. Cohen. It is clear that, as the prosecutor noted, Mr. Cohen's actions reflect a pattern of lies and dishonesty over a significant period of time."
While there is no confirmation yet about a postponed hearing, Sunday's Unite For Justice rallies look to be the biggest single-day protest for a Supreme Court nominee thus far, per the Unite For Justice website. The fight is far from over if you want to #StopKavanaugh: In the months to come, you can contact your local Senate office directly (it's important to note that messages from non-constituents don't get recorded) by calling the Capitol switchboard number at 202-224-3121 and speaking to your local legislator about Kavanaugh's potential election to the highest court in the land.