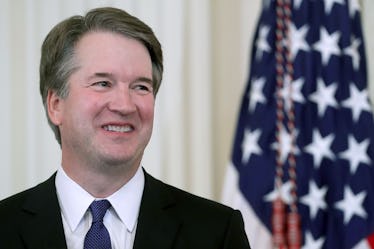 This Is What To Know About Trump's Supreme Court Pick's Stance On Birth Control
Chip Somodevilla/Getty Images News/Getty Images
On Monday, July 9, President Donald Trump broke the highly anticipated news of who he'd be nominating to fill the Supreme Court vacancy left by the retirement of Justice Anthony Kennedy. Trump's pick, he announced, would be Judge Kavanaugh, a conservative voter known for some harsh lines on abortion rights. The announcement rattled reproductive rights advocates for that reason alone, but Brett Kavanaugh's stance on birth control in general could have serious implications for women's access at large.
When it comes to Kavanaugh's stances regarding reproductive rights, what's less clear is how he explicitly feels about preventative measures — namely, birth control.
Many advocacy groups on the left have sounded the alarms with Kavanaugh's nomination, arguing that he would be a vote to overturn the Affordable Care Act (ACA aka Obamacare) contraceptive coverage mandate, which has provided access to birth control for millions of women.
His track record, in fact, speaks to this. In a 2015 case regarding employers' requirements to provide birth control coverage to employees, Kavanaugh dissented from the decision to uphold the requirements of the contraceptive mandate of the ACA, siding with employers who opposed providing birth control for religious reasons.
In Priests for Life v. Department of Health and Human Services, Kavanaugh, sympathetic to the religious freedoms of the employers, took issue with the form that employers would need to file in order to seek a religious exemption from the mandate, arguing that it was too burdensome.
The form required by the ACA, he clarified, was not the "least restrictive means" of accommodating employers' religious needs. He argued it was not in the court's purview to pass judgment on whether an employer's religious beliefs were right or wrong. Some employers, he added, may feel "complicit" in being forced to provide a service to which they're morally opposed; as such, their barriers to opt out of that, he essentially argued, should be as low as possible. In other words, if an easier option for religious exemption were available, the government had to opt for that.
It's important to note that, while he argued that the government could not require this form in order to pursue an exemption, he also stated that the government was still allowed to require employers' insurers to provide contraceptive care.
Kavanaugh, prioritizing the religious liberties of the employers, advocated for a simpler form that would make it easier for those who wanted a religious "pass" to obtain one.
Kavanaugh's potential to join the Supreme Court has drawn concern for many who worry that he might overturn the ACA's mandate, jeopardizing access for millions of women. An estimated 62.4 million women in the U.S. have access to birth control without any out-of-pocket costs, about seven million more than 2015 estimates, according to the National Women's Law Center.
In the Priests For Life dissent, however, Kavanaugh also upheld the "compelling interest" of the government in providing birth control to women. Citing Kennedy, he acknowledged the "numerous benefits of contraception," writing,
About 50 percent of all pregnancies in the United States are unintended. The large number of unintended pregnancies causes significant social and economic costs. To alleviate those costs, the Federal Government has long sought to reduce the number of unintended pregnancies, including through the Affordable Care Act by making contraceptives more cheaply and widely available.
In fact, he touts the benefits of contraception, in part, expressly because they can prevent abortion.
It is commonly accepted that reducing the number of unintended pregnancies would further women's health, advance women's personal and professional opportunities, reduce the number of abortions, 9 and help break a cycle of poverty that persists when women who cannot afford or obtain contraception become pregnant unintentionally at a young age.
Despite going in favor of the appellants, Kavanaugh's ruling on Priests — especially in expressing the "compelling interest" for birth control — has even been cause for criticism among conservatives who felt his record on religious liberties hasn't been robust enough. For example, The Federalist earlier this month criticized Kavanaugh's dissent, writing that his citing the merits of birth control in "supporting detail" was "something he certainly didn't have to do."
It's worth noting that the Trump administration has likewise sought to rollback the birth control access that women have under the ACA. Specifically, it moved in October 2017 to rescind requirements for providing birth control coverage for employers who were opposed on moral or religious grounds.
While it's not crystal clear what Kavanaugh personally feels about reproductive rights, a few things are apparent: while he appreciates the benefits of contraceptive care, he also appreciates religious liberty, and has shown a willingness to let this trump access to coverage.
As for what he might rule on other issues of birth control in future cases on the Supreme Court, if he's confirmed, is another matter.