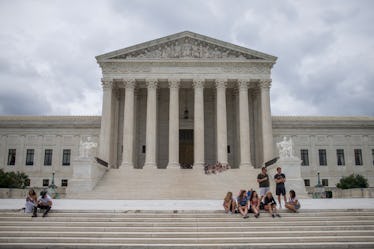 Here's How To Make Your Voice Heard About Trump's Supreme Court Nomination
Zach Gibson/Getty Images News/Getty Images
TBH, the news that Supreme Court Justice Anthony Kennedy is retiring from his seat on the Supreme Court kinda has everyone in a complete frenzy — rightfully so, though, as his replacement could have a massive impact on the future decisions to come out of the court. But even though American citizens don't get to vote on the appointee to the court, there are still ways to influence who'll get picked for the seat. For starters, here's how to call Congress about Trump's Supreme Court nomination.
Before you starting punching up numbers on your phone, you want to first have a clear understanding about why you're calling. On Wednesday, June 27, Kennedy announced his resignation, which is effective as of July 31. So now, President Donald Trump will get to nominate a replacement for the justice — which could impact the Supreme Court for generations, as Trump has often stated his desire to appoint anti-abortion justices. Trump also said he would be starting his search "immediately," so now is certainly the time to get things rolling.
The first thing to know is that you should aim to contact the Senate — which will vote on the president's nominee this fall. The House of Representatives has no part in it, so don't waste your time calling your rep. It won't do anything.
The easiest way to reach out is to call your senator's office directly. The Senate has this information on its website, along with contact information for the representatives of your state. Or you may want to hit up the Congressional switchboard at (202) 224-3121 and request to be connected to your senator's office — just make sure you have your senator's name on hand.
And you should make sure your message is as specific and direct as you can make it — a key tip, as Yuri Beckelman, the Deputy Chief of Staff & Legislative Director for Congressman Mark Takano of California, told Elite Daily in March. You should also make sure that you note that you're a constituent, and be prepared to leave your name and address, even if you're leaving a voicemail or communicating by email.
If Trump has specified his nominee by the time you call, that's the only name you'll need to drop. Or if you don't want to wait that long, you might want to try to encourage your senator to stand against any nominee that won't support major issues, like reproductive rights, civil rights, or equality for the LGBTQ community. You can say something like,
Hello, I'm [your name] and I'm a constituent of Senator [their name] in [your state]. I'm calling to urge the senator to stand against any nominee to the Supreme Court that doesn't support reproductive rights, the LGBTQ+ community, and civil rights.
Feel free to add or sub in any issues that are important to you — it's your chance to make your voice heard, after all. But one thing not to do? Resist the urge to go down the Senate's phone tree and call senators who don't represent your state, as messages from non-constituents don't get logged.
You might think it's far-fetched, but there are actually senators who have already expressed their dissatisfaction with Trump having the opportunity to appoint the next justice and are promising to do what they can to stop it, including California's Sen. Kamala Harris.
In a statement, Harris said she believes the choice should be left up to the American people in the November midterm elections — an echo of Republican leader Mitch McConnell's rationale for blocking Merrick Garland, President Barack Obama's Supreme Court nominee, in 2016. Harris said:
Given the stakes of this seat which will determine the fate of protected constitutional rights, the American people, who are set to vote in less than four months, deserve to have their voice heard. We should not vote on confirmation until they have voted at the ballot box. The President's list of potential nominees are complete non-starters. They are conservative ideologues instead of mainstream jurists. We cannot and will not accept them to serve on the highest court in the land which is supposed to stand for equal protection under the law and justice for all.
So, yeah: your senators will likely want to hear what you have to say, too.
Also important: you want to make sure you're being calm and courteous when reaching out to your senators. I get it: politics get us all riled up. But the more respectful and polite you are when reaching out, the further you're likely to get.
You can do your part in making a difference with these simple steps. And you can potentially make even more of a difference by sharing these tips with others. No matter what happens, it never hurts to try... Right?
And who knows — by the time a replacement is finally confirmed, you might be genuinely pleased with the outcome. Give it a go.