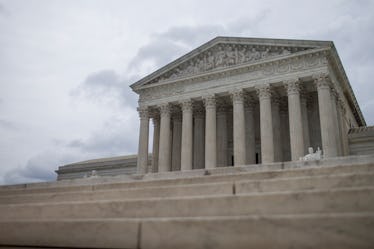 These Democrats Have Already Said They'll Block Trump's Supreme Court Nominee
Zach Gibson/Getty Images News/Getty Images
When news broke on June 27 that Justice Anthony Kennedy would be resigning, the entire nation wondered what this meant for the future of the Supreme Court. With Kennedy's departure, this means that Donald Trump will have his second justice pick of his still-young presidency, but it looks like he might have some trouble making a decision. Which Democrats support blocking Trump's Supreme Court nomination? Believe it or not, there are already some pushing back.
Although appointed to the Supreme Court by a member of the Republican party, Justice Kennedy made himself known as a justice that didn't follow typical ideologies. However, as his time in the Supreme Court comes to a close on July 31, there's a possibility that the court might become a lot more conservative as Donald Trump lines up his second Supreme Court justice nominee. He's already chosen Justice Neil Gorsuch as his first pick, who took the place of Antonin Scalia after his death. However, a number of Democrats are already pushing to make sure the next Supreme Court nominee is one that represents a fair and balanced court system.
Among those fighting against Trump's next justice nominee are Sen. Kamala Harris of California, Sen. Chuck Schumer of New York, and others.
Even though many people are panicking about Kennedy's retirement as if a new Supreme Court Justice will be joining the ranks tomorrow, it turns out that Supreme Court seats can sit vacant for months. However, upon news that Kennedy would be leaving his seat, Trump told reporters on June 27 that the search to replace Kennedy would take place "immediately." Trump also told reporters that his next Supreme Court pick would come from an existing list of more than two dozen candidates.
However, many Democrats believe the appointment should happen at a later date. In fact, Sen. Kamala Harris released a statement relaying that the seat shouldn't be filled until after the midterm elections on Nov. 6 — an echo of how Republican leader Mitch McConnell blocked President Barack Obama's nominee, Merrick Garland, in 2016.
Harris' statement read,
Given the stakes of this seat which will determine the fate of protected constitutional rights, the American people, who are set to vote in less than four months, deserve to have their voice heard. We should not vote on confirmation until they have voted at the ballot box. The President's list of potential nominees are complete non-starters. They are conservative ideologues instead of mainstream jurists. We cannot and will not accept them to serve on the highest court in the land which is supposed to stand for equal protection under the law and justice for all.
Not only is Trump's sense of urgency sending Democrats into a panic, but his list of nominations aren't necessarily an inclusive group of individuals. Trump has long promised to appoint anti-abortion judges, who would make overturning abortion rights case Roe v. Wade a priority. It's no secret that he intends to fill the court with conservative judges.
Sen. Chuck Schumer of New York is another Democrat who believes Trump's list of nominees aren't fair and accurate representations of the American people. In response to Trump's confirmation that he would be choosing from his existing list, Schumer took to Twitter to tell his followers that we "shouldn't stand" for this list, and that these picks are in "special interest."
"Americans should make it clear that they will not tolerate a nominee chosen from President Trump's pre-ordained list, selected by powerful special interests, who will reverse the progress we have made over the decades," Schumer tweeted on June 27.
Although the fight to block Trump's Supreme Court pick is truly admirable, it'll be a long and difficult journey. In order to successfully block the nominee, Democrats must band together and step forward as one united force in order to accomplish their goal. With a Republican majority in the Senate, all 49 Democrats, plus at least two Republicans, would have to join forces to vote down a Trump nominee.
For now, regardless of whether you're a Republican or a Democrat, there's one thing you can always do to make a change.
Nov. 6 kids. Mark your calendars.