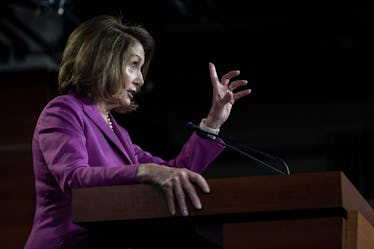 This Is How Dems Could Stop Trump From Appointing A New Supreme Court Justice
Toya Sarno Jordan/Getty Images News/Getty Images
Supreme Court Justice Anthony Kennedy is stepping down, which opens a whole host of issues for Democrats, as well as the future of abortion policy, religious discrimination suits, and more. The vacant Supreme Court seat will be filled by President Donald Trump — his second appointee — but there are efforts that can be taken to make it harder for him to do so. Can Democrats stop Trump from appointing a new Supreme Court justice? There's certainly precedent as recently as 2016.
With news of Justice Kennedy's retirement from the Supreme Court, President Trump will be tasked with appointing a replacement. Kennedy was appointed by Ronald Reagan, a Republican, but Kennedy's famous for being difficult to pin down ideologically. His departure will certainly rattle the nation, as it will likely shift the Supreme Court even further in alignment with the Republican party under Trump.
However, the Democrats do have ways to delay the process of filling Kennedy's seat — or at least to publicly recommend that it take place after the November midterm elections. The question of will they do anything is different from can they, though.
You might recall that Trump's first appointee, Justice Neil Gorsuch, came to the bench after Senate Majority Leader Mitch McConnell blocked President Barack Obama's nominee, Merrick Garland. (Garland was nominated after Justice Antonin Scalia's death in February 2016). Within an hour of Scalia's death in February 2016, McConnell announced that he would block any Obama replacement, according to The Huffington Post.
"The American people should have a voice in the selection of their next Supreme Court Justice," McConnell's 2016 statement read. "Therefore, this vacancy should not be filled until we have a new President."
The Associated Press reported Wednesday that McConnell said his chamber will vote in the fall on Trump's nominee. "It's imperative that the president's nominee be considered fairly and not subjected to personal attacks," McConnell said.
Should McConnell follow through with this timing, there is extremely little that Democrats can do to block Trump's upcoming nomination. When McConnell worked to block Garland's nomination, Republicans had the majority in Congress, allowing them the votes to be able to do so. Republicans still maintain a majority in Congress, and that isn't going to change until at least January of 2019, should the midterms lead to a flip. McConnell could make a nomination vote happen well before then.
Once a nomination gets to the full Senate for debate, Democratic senators could filibuster to delay a vote. To end the debate, per Georgetown Law, at least 60 senators need to vote in approval. There are currently 51 Republican senators, 47 Democrats, and two Independents, which could mean a blocked, endless debate. However, once the process gets past debate, a nominee only needs a simple majority (i.e. 51 or more senators) vote to get approved. Should there be a tie, the vice president would break it (which, again, would go Republican with Mike Pence).
So there are some bureaucratic measures Democrats could, theoretically, take. However, although Democrats blocked dozens of Trump's nominees for government positions at the beginning of his first term in 2017, per Politico, the process of organizing an effort to delay the appointment of a Supreme Court nomination would take a united message from the Democrats, and political courage — of which they haven't shown a lot of lately, particularly with how they've reacted to Rep. Maxine Waters' adversarial approach to dealing with Trump.
Some Democrats are already indicating that they won't do as McConnell did and try to block Kennedy's replacement. Sen. Richard Blumenthal, of Connecticut, said he hoped Trump would appoint a "centrist" and advised against the Senate opting to "artificially delay" the appointment, according to MSNBC correspondent Garrett Haake.
But other Democrats have been louder advocates for slowing Trump's ability to fill a second seat on the Supreme Court.
"The Democrats have got to fight for that fifth seat with everything they've got," Chris Matthews said on Hardball Wednesday afternoon. Others joined in too, suggesting that the Democrats needed to act.
Sen. Kamala Harris urged the appointment to wait after the November midterms, saying in a statement,
Given the stakes of this seat which will determine the fate of protected constitutional rights, the American people, who are set to vote in less than four months, deserve to have their voice heard. We should not vote on confirmation until they have voted at the ballot box. The President's list of potential nominees are complete non-starters. They are conservative ideologues instead of mainstream jurists. We cannot and will not accept them to serve on the highest court in the land which is supposed to stand for equal protection under the law and justice for all.
Sen. Chuck Schumer, of New York, said that Americans should not stand for an appointee from Trump's list.
"Americans should make it clear that they will not tolerate a nominee chosen from President Trump's pre-ordained list, selected by powerful special interests, who will reverse the progress we have made over the decades," Schumer said in a tweet.
People are going to be talking about the news of Kennedy's retirement for many, many months. It will likely draw more protests, more unrest, and more organizing as the November elections approach.