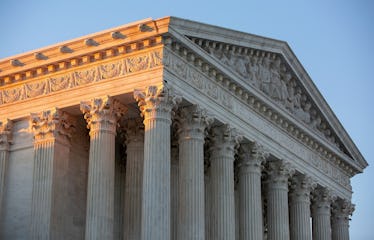 Brett Kavanaugh's Stance On Abortion Is Complicated, & Here's What To Know
Tasos Katopodis/Getty Images News/Getty Images
On July 9, President Donald Trump announced his highly anticipated nominee for the Supreme Court: Judge Brett Kavanaugh. There have been heightened concerns ahead of Trump's appointment, given his pick could drastically affect future court decisions on serious issues like health care, gay marriage, and — most notably — abortion. Of particular concern was Roe v. Wade, the landmark case which gives women the right to terminate a pregnancy. And now that the president has named his nominee, you may be asking yourself about Judge Brett Kavanaugh's stance on abortion.
Although Kavanaugh's stance isn't immediately clear, Trump has promised to appoint Supreme Court justices who would overturn abortion rights case Roe v. Wade. Trump also selected Kavanaugh from a previously-released list of nominees who have been vetted by extreme anti-abortion conservative groups like the Federalist Society and the Heritage Foundation — both of which disapprove of Roe v. Wade.
Additionally, the judge had been involved in a high-profile case in 2017, Garza v. Hargan, over whether or not an undocumented immigrant teenager should be allowed to have an abortion. According to Politico, Kavanaugh sided with the Trump administration's refusal to provide abortion services for immigrants. In his dissent, Kavanaugh claimed the majority had devised "a new right for unlawful immigrant minors in U.S. Government detention to obtain immediate abortion on demand."
Although he hasn't candidly voiced his opinion on Roe v. Wade, many have feared that he may be in support of rolling back the ruling based on his ultimate opinion in Garza v. Hargan. As if that all weren't telling enough, Kavanaugh also ruled against women's access to birth control in 2015, which could indicate much of what's to come from the Supreme Court, if he is confirmed as its new justice.
Many advocates for reproductive rights have already expressed their concerns about Trump's nominee, including the pro-choice organization Planned Parenthood Federation of America. Dawn Laguens, the organization's executive vice president, shared a statement with Elite Daily regarding the nomination, saying:
We oppose the nomination of Brett Kavanaugh to the Supreme Court, and call on the Senate to do the same. There's no way to sugarcoat it: with this nomination, the constitutional right to access safe, legal abortion in this country is on the line. We already know how Brett Kavanaugh would rule on Roe v. Wade, because the president told us so. We take Trump at his word that Brett Kavanaugh would overturn Roe v. Wade and get rid of the Affordable Care Act. The balance of the Supreme Court is at stake — we cannot allow it to be tilted against the constitutional right to access abortion. Generations of women, especially women of color, will be affected. And generations of people have grown up only knowing a country where they have the right to access safe, legal abortion. We cannot allow our children and grandchildren to have fewer rights than we do today.
Stephanie Schriock, president of EMILY's List, also shared a similar statement, saying:
One of Donald Trump's biggest campaign promises was to nominate Supreme Court justices who would overturn Roe v. Wade and do the right wing's bidding, and we take him at his word that he has chosen just that candidate. Whether he's attempting to defund Planned Parenthood, reinstating the global gag rule, rolling back the contraception mandate, or appointing a wave of anti-choice judges to lifetime appointments, Trump has made it clear that he keeps his promises to slash women's rights and access to health care. Any nominee — including Kavanaugh, handpicked by right-wing groups for his views on abortion rights, among other issues — who supports overturning Roe or placing even further restrictions on women's access to reproductive health care is unfit to serve the American people; full stop.
Despite the concerns, though, there's still a chance — Kavanaugh's appointment to the Supreme Court isn't immediate. He'll have to go through confirmation hearings before the Senate, where he'll have to receive a majority of 51 votes of approval before its official. So, there's still hope for abortion access. For now.