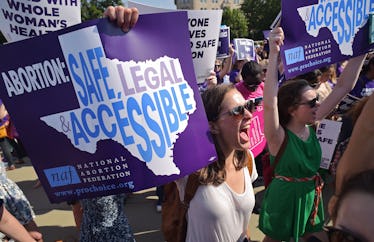 Undocumented Girl Seeking Abortion Releases Powerful Statement: "This Is My Life, My Decision"
MANDEL NGAN/AFP/Getty Images
On Wednesday morning, Oct. 25, an undocumented teenager was finally able to get an abortion. The 17-year-old has been fighting for her right to get the legal medical procedure for over a month, and she is going by the pseudonym Jane Doe. She is being held in an immigration center for illegally crossing the border, and the Donald Trump administration had been working to keep her from getting an abortion. However, after a judge ruled in her favor, Doe released a statement through the ACLU, which has been fighting for her case, and it's full of powerful sentiments all women should hear.
"This is my life, my decision. I want a better future. I want justice," she wrote in the statement.
The teenager had gotten a judge's permission for an abortion on Sept. 25 (minors in Texas need parental approval or a judge's permission to get an abortion, which is one of many restrictive laws in the state). However, federal officials then would not allow her to leave the detention center to get the procedure. The ACLU fought on Doe's behalf in mid-October, with one judge ruling on Wednesday, Oct. 18 that she could get the procedure, but a Washington federal appeals court ruled just two days later, on Friday, Oct. 20 that she could not get an abortion. Finally, however, on Tuesday, Oct. 24, the full U.S. Court of Appeals for the D.C. Circuit ruled for her to have new dates to get the procedure, and on Wednesday, Doe got the abortion.
I made my decision and that is between me and God.
In the statement, Doe says she "came to this country to make a better life for myself." She says she dreamt about "studying, becoming a nurse, and one day working with the elderly."
She goes on to say that she was told she was pregnant when she was detained and placed in a shelter for children. She "knew immediately what was best for me then, as I do know — that I'm not ready to be a parent." Doe explained that she went through the proper process to get an abortion as a minor without parental permission in Texas. However, the government at the shelter then "made me see a doctor that tried to convince me not to abort and to look at sonograms." (It's worth mentioning that crisis pregnancy centers across the country function like that every day in attempts to stop women from getting abortions.)
"People I don't even know are trying to make me change my mind," Doe wrote. "I made my decision and that is between me and God. Through all of this, I have never changed my mind."
In fact, research shows that overall women are more certain about getting abortion care than many other medical procedures, including treatment for cancer or reconstructive knee surgery.
Doe wrote,
No one should be shamed for making the right decision for themselves. I would not tell any other girl in my situation what they should do. The decision is hers and hers alone.
Doe's case intersects on the rights of immigrants and women in this country and is an indicator of where the Trump administration stands on those rights. Abortion has been legal across the United States since the 1973 Supreme Court case Roe v. Wade. However, abortion care and the right to an abortion are both still heavily restricted by state laws, and Trump stated during the 2016 presidential campaign that he would work to further restrict women's rights and access to the medical procedure. (And the Trump administration is currently debating the rights of young undocumented immigrants with its decision to end the Deferred Action for Childhood Arrivals (DACA) program for Dreamers.)
Doe ended her statement thanking people around the country for their support. No woman is free until every woman is free to do what's best for herself, her future, and her family. Finally, after over a month of fighting, Doe got some amount of that freedom.