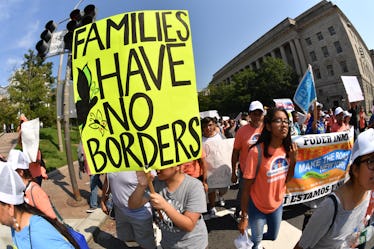 Trump's New Immigration Demands Are Bringing Back The Wall, Despite Promises
PAUL J. RICHARDS/AFP/Getty Images
Following weeks of speculation since the Trump administration announced that it would be ending Deferred Action for Childhood Arrivals (DACA) in early September, President Donald Trump finally released guidelines on what he wants to see out of immigration reform on Oct. 8, according to Reuters. And, unsurprisingly, they're pretty harsh. But what will Trump's immigration plan mean for Dreamers? Nothing good, it seems like.
Though Trump has waffled on whether he supports a path to legalized status for the young undocumented people known as Dreamers before, this immigration reform "wish list" includes a number of provisions which would make life very difficult for them — not to mention the rest of the some 11 million undocumented immigrants in America.
Among them? Crackdowns on unaccompanied minors, tighter standards for asylum seekers, and of course, Trump's much dreamed-of border wall.
The one-page executive summary of the proposal, obtained by Politico, says that the policy priorities are meant to "ensure safe and lawful admissions; defend the safety and security of our country; and protect American workers and taxpayers." The document is laid out in three sections, the first of which is, of course, labeled "Border Security" and starts with "Fund and complete construction of the southern border wall." Trump's wish list also requests funding to beef up immigration enforcement, including the hiring of 10,000 more ICE officers, cutting off funding for so-called "sanctuary cities," and creating a point-based system for green cards.
The wish list also seems to encourage the deportation of children who arrive in the country alone — a proposal which appears to be in contrast to current policy, which requires that unaccompanied children be put in the "least restrictive setting," given access to free legal services and notified of their immigration eligibility.
Also crucial for young undocumented immigrants — the proposal pushes to limit family-based green card sponsorship to spouses and children under 18, meaning that even if Dreamers themselves are protected, their parents would still be at risk of deportation.
The proposal is in contrast to a deal that Trump supposedly reached with Democratic leaders in mid-September.
Sen. Chuck Schumer and Rep. Nancy Pelosi said on Sept. 13 that they had reached a deal with Trump to protect DACA recipients which included beefing up border security — but didn't include the wall. The White House quickly pushed back, saying that no deal had been reached and that the wall would move forward.
After the news of Trump's policy proposal went public, Schumer and Pelosi released a joint statement denouncing the demands. It read in part,
The Administration can't be serious about compromise or helping the Dreamers if they begin with a list that is anathema to the Dreamers, to the immigrant community and to the vast majority of Americans. We told the President at our meeting that we were open to reasonable border security measures alongside the DREAM Act, but this list goes so far beyond what is reasonable. This proposal fails to represent any attempt at compromise.
The harsh new guidelines likely mean that any hope of a bipartisan deal on protecting young immigrants has gone down the tubes.
The guidelines also come after Republicans in Congress introduced their own immigration reform bill intended to support Dreamers in late September, called the Succeed Act. While the proposed legislation is overall more conservative than DACA, it also providea a path to citizenship — if young immigrants meet a very strict set of eligibility requirements and are willing to wait in limbo for a decade and a half.
Trump's hard line on immigration is disappointing, but it's not exactly surprising.
Trump ran for the presidency on a platform of anti-immigrant sentiment and xenophobia, positions that have carried over into policies, including the travel ban aimed at majority-Muslim countries and immigration.
And if he wavers on the issue, he comes under fire from his own base. When news broke of the purported deal with Democrats that didn't include funding a border wall, some of Trump's supporters — including the right wing website run by Trump's former chief strategist Steve Bannon — criticized the president for apparently compromising.
Ultimately, it remains to be seen how many of these demands end up in legislation, should any get passed. After all, the document only outlines guidelines and wishes on the part of the president.
But it's only a matter of a few steps for it to become law. Doug Andres, a spokesman for Speaker of the House Paul Ryan, told Politico that lawmakers were looking over the guidelines and would be continuing to talk to the White House about legislation.