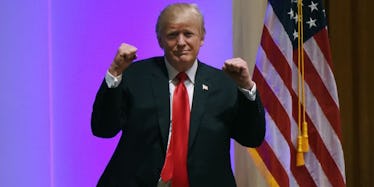 Trump Says There's "No Deal" On DACA, Then Immediately Starts Defending DACA
Olivier Douliery-Pool/ Getty Images
On Wednesday night, Sept. 13, top Democrats said they'd agreed on a deal with President Donald Trump to essentially save Deferred Action for Childhood Arrivals (the immigration program otherwise known as DACA). By the next morning, a contradiction came from the president himself, after Trump tweeted there's "no deal" on DACA. In a series of four posts on Thursday morning, the president first asserted there was no compromise, but then outlined a potential compromise, all before going on to defend the purpose of DACA.
The president wrote,
Does anybody really want to throw out good, educated and accomplished young people who have jobs, some serving in the military? Really!
The night before, White House press secretary Sarah Huckabee Sanders also moved to contradict the narrative that a deal had been made to save DACA. She tweeted,
While DACA and border security were both discussed, excluding the wall was certainly not agreed to.
Trump says "no deal" but outlines deal.
Trump's Thursday morning posts consolidated the White House's position contradicting the idea of an agreement with Democratic leaders -- namely Senate Minority Leader Chuck Schumer and House Minority Leader Nancy Pelosi. However, the tweets also amount to a self-contradicting denial.
Right after saying there's "no deal," Trump outlined what a compromise to get DACA-like law would require: "Massive border security would have to be agreed to in exchange for consent."
Such a compromise is essentially what Pelosi and Schumer outlined in the joint statement they released on Wednesday night, which read,
We agreed to enshrine the protections of DACA into law quickly, and to work out a package of border security, excluding the wall, that's acceptable to both sides.
In addition, Trump's mention of "the wall" as now a matter of "renovation" implies that the subject of a new border wall -- a key promise of Trump's presidential campaign -- is one that is unrelated to negotiations over DACA, which is also what Trump and Pelosi wrote.
Furthermore, before traveling to Florida on Thursday morning, Trump told reporters "the wall will come later."
The idea that such an agreement would be subject to vote (presumably in Congress), furthermore, goes without saying.
The compromise already has Republican support.
The prospect of a compromise between lawmakers in Washington D.C. had already been foreshadowed just days after the Trump administration rescinded DACA.
During an appearance on Fox News last week, Sen. Lindsey Graham (R-SC) said a deal to codify DACA in law would "absolutely" be worked out by Congress within the next six months, while also saying that the deal would feature an increase in border security but would not feature funding for a new wall.
In addition, Trump told reporters on Thursday morning that Senate Majority Leader (R-KY) and House Speaker Paul Ryan (R-WI) were on board with cementing DACA in a law via a compromise that was predicted by Sen. Graham and written about on Wednesday night by Pelosi and Schumer.
Less than 24 hours after the Trump administration formally announced DACA would be rescinded, Trump publicly stated he would work to preserve the program.
Trump loyalists are criticizing the move.
The president's efforts to preserve DACA has come with criticism from notable sources, within his own base. Rep. Steve King (R-IA) tweeted that a compromise with Democrats would mean the destruction of Trump's base.
Meanwhile, the president was the subject of a similar backlash from right wing personalities and Trump loyalists like Laura Ingraham, Sean Hannity, and Ann Coulter.
Elsewhere, Breitbart News, which is run by former White House chief strategist Steve Bannon, ran negative headlines in lieu of reports about Trump working with Democrats.
Despite members of Trump's base showing displeasure with DACA-related negotiations, it's clear who does support those negotiations, by Trump's own account.
According to the president himself, he and leaders of both major parties in Congress are prepared to codify DACA in law, all despite there being "no deal."