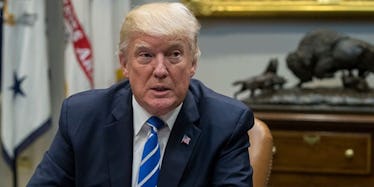 Trump Is Already Suggesting He Could Bring DACA Back With This One Tweet
Shawn Thew-Pool/Getty Images
Less than 24 hours after imploring Congress to "do your job" and create immigration reform to make up for the potential loss of DACA, President Donald Trump suggested that he may end up doing that job for them. That suggestion came on Tuesday night, Sept. 5, when the president said via Twitter that he would "revisit" the issue of DACA if Congress itself wasn't able to come up with a law. In other words, the tweet hinted that Trump might bring DACA back or, at least, take action similar to DACA.
Here's what the president had to say:
Congress now has 6 months to legalize DACA (something the Obama Administration was unable to do). If they can't, I will revisit this issue!
Combine Trump's tweet with the context behind those words and it becomes a significant statement on the part of the president. Here's an outline of three reasons why:
The wording suggests Trump's goal is to keep DACA.
In his tweet, Trump makes it clear that the goal for Congress is to "legalize" DACA (otherwise known as the Deferred Actions for Childhood Arrivals). The "6 months" is a reference to Trump's decision to end DACA, but with a half-year delay to give Congress time to respond to the program's eventual end.
At first, the decision — and the delayed end of DACA — could have been understood as "Congress has six months to come up with something or DACA recipients will have nothing."
After Trump's tweet on Tuesday night, one could also read the situation as "Congress has six months to come up with something or Trump will try something himself."
Trump had already seemed unsure about the decision to end DACA.
On Tuesday morning, the New York Times reported that President Trump had been looking for "a way out" of ending DACA. In the past, Trump repeatedly referred to DACA as a "tough" subject to make a decision and told reporters he'd deal with "Dreamers" (immigrants who came to the U.S. as children) with heart.
As far back as 2012 — after Obama issued the executive order that created DACA — Trump said during an interview on Fox & Friends that he preferred a permanent solution to protect Dreamers.
Trump said at the time,
On a human basis, how do you throw somebody out that's lived in this country for 20 years?
The bottomline: At various points, Trump has sounded far from someone is firmly on the side of triggering action that would result in the mass deportation of Dreamers.
Whether or not that specific type of mass deportation actually comes, the lack of firmness remains apparent even after the decision to end DACA, especially considering the president's tweet on Tuesday night.
Congress chances at "legalizing" DACA are doubtful.
The idea that Congress could pass immigration reform is complicated by an already packed to-do list.
Congress has yet to reform healthcare, it hasn't gotten started on tax reform, and there's been no movement on an infrastructure bill, which was one of Trump's core campaign promises.
That's before even getting to September's priorities (see the CBS News graphic below), which includes agreeing on a budget.
Take the fact that Congress already has so much on its plate and combine with the history of Republicans and Democrats repeatedly failing over the past 17 years to come up with law similar to DACA (which is what Trump is asking for), and it looks like Trump might not get, well, what he is asking for.
Now throw in the fact that he basically hinted that if members of Congress don't do the hard work, he'll do it for them (a point which, by the way, conservative media members criticized as a poor negotiation tactic).
What you have in the end is a situation in which, when you consider all of the context — Trump's position on DACA and Congress chances of passing immigration reform — there's a significant chance the president could end up "revisiting" DACA.
That's what makes his tweet on Tuesday night so important.