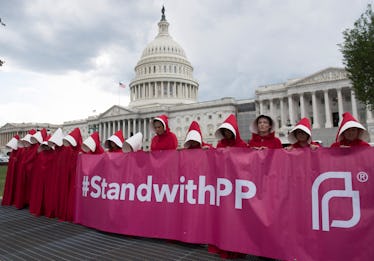 An Undocumented Teenager Is Now Being Stopped From Getting An Abortion In America
SAUL LOEB/AFP/Getty Images
There's an ongoing battle to stop an undocumented teenager from getting an abortion — and it just keeps getting worse. A Washington federal appeals court temporarily blocked the 17-year-old's reproductive rights by shutting down her ability to obtain an abortion. Meanwhile, Twitter users are advocating for the 15-week pregnant teen, who goes by pseudonym "Jane Doe," with the hashtag #JusticeForJane.
Jane Doe is being held in an immigrant detention facility in Texas after crossing the border in September. On Sept. 25, the teen received a judge's permission to obtain an abortion (this is a requirement in Texas for minors who do not have parental permission). Despite that allowance, federal officials are continuing to keep the teen in the detention facility, and refusing to let her leave for the procedure.
On Oct. 20, the U.S. Court of Appeals for the District of Columbia decreed that the U.S. Department of Health and Human Services (HHS) has 11 days to find the teen a temporary guardian. Once that happens, the guardian can accompany Doe to the abortion procedure.
However, Brigitte Amiri, an ACLU lawyer representing the teen, said finding a guardian could take months.
"This is a dangerous decision," the organization later tweeted out.
"There's no reason why her immigration status should diminish her constitutional rights," Amiri argued during the hearing, according to The Austin Chronicle. "The [Supreme] Court has said no matter how much of an interest the government has in potential life, you cannot act on that interest to ban abortion for anyone."
Many took to Twitter to slam the court's decision.
According to CBS News, Trump administration lawyer Catherine Dorsey told judges that the HHS, which houses undocumented and unaccompinied minors, has a standard policy of "refusing to facilitate" abortions. She added that permitting the girl to go to a clinic would mean that the department would need to find alternate custody for the teen, along with arranging follow-up care.
"Even if she has that right, we don't have to facilitate it," Dorsey said, per The Washington Post. She also claimed that government officials are "looking out for the best interest of the minor child."
Dorsey added that the teen could return to her home country in Central America, though, she confirmed, the country does not allow abortions.
NARAL, a pro-choice orginzation, had a different take on the situation. The group accused the GOP of using the pregnant teen as a tool in their agenda to promote anti-choice idealogies.
NARAL's President Ilyse Hogue wrote in a statement,
The anti-choice GOP is using this young woman as a pawn for their extremist ideology. The circumstances of her case are horrifying: the Trump administration is holding Jane Doe hostage and forcing her to remain pregnant against her will. By delaying Jane Doe's case through the courts, the Trump Administration has argued that our constitutional right to bodily autonomy is a burden. This young woman is personally being blocked from accessing an abortion by government officials who have a duty to provide her healthcare. Abortion access is an international human right, and should extend to all women.
Planned Parenthood's president Cecile Richards also expressed her disgust over the court's decision, writing in a statement,
It is an outrage that the Trump Administration stepped in to block Jane Doe from her constitutional right to safe, legal abortion. This additional delay sets a dangerous precedent in disregarding constitutional rights. The lack of humanity and empathy in these decisions is abhorrent. Everyone deserves access to basic health care regardless of their age, income, or immigration status.
This whole situation is awful. #JusticeForJane, always.