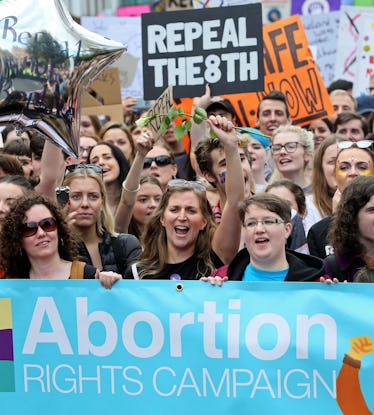 The Trump Administration Is Trying To Stop An Undocumented Girl From Getting An Abortion
PAUL FAITH/AFP/Getty Images
There is currently an ongoing court case about an undocumented girl who is trying to get an abortion and the Trump administration is doing everything to stop her. The minor, going by the pseudonym "Jane Doe," who is 15 weeks pregnant and prefers to keep her identity disclosed, has been held in an immigrant detention facility in Texas after crossing the border in September, according to the Los Angeles Times. The American Civil Liberties Union, or ACLU, went to court on Jane Doe's behalf against lawyers of the Trump administration. Here's a breakdown of what has actually happened with this abortion case.
While the teenager was held at the immigrant detention, she started seeking a way to get an abortion. She received a judge's permission on Sept. 25 to get an abortion a few days after, according to Politico, which is a requirement for minors in Texas who don't have parental permission for an abortion procedure. Despite this judge-issued order, federal officials have kept her at the detention center and have not allowed her to leave and go to a clinic, according to the Los Angeles Times.
This "Jane Doe" case isn't the first time this has happened. According to Politico, for the last seven months, the Department of Health and Human Services (HHS) has tried to prevent girls from federally funded shelters from getting abortions, even if the teenager had the funds to pay for her abortion, and even in the case of rape and incest. The HHS has reportedly forced these minors to go to crisis pregnancy centers and religiously affiliated groups to seek counsel against getting an abortion.
So, on Friday, Oct. 13, the ACLU went to court on behalf of this undocumented girl, claiming that officials of the Office of Refugee Resettlement, part of the Health and Human Services department, were not allowing the girl to get an abortion, even though she had obtained a judge's permission. Another aspect that makes this issue pressing is that abortions after 20 weeks are illegal in Texas, and this 17-year-old teenager is at 15 weeks in her pregnancy, according to ThinkProgress.
On Wednesday, Oct. 18, U.S. District Judge Tanya S. Chutkan ruled that the Trump administration must stop holding this teenager and blocking her from getting an abortion, according to the Los Angeles Times. The judge gave orders to transport the girl to the clinic of her choice and have an abortion on Saturday, Oct. 21. At this same hearing on Wednesday, a lawyer for Attorney General Jeff Sessions suggested that the woman was not constitutionally allowed to have an abortion because she was not legally a U.S. resident, according to the Los Angeles Times. (Abortion is a constitutionally-protected right for Americans thanks to 1973's Roe v. Wade.)
Less than 24 hours later, on Thursday, lawyers from the Trump administration filed an appeal with the D.C. Court of Appeals for an emergency order to block Judge Chutkan's ruling and prevent the pregnant 17-year-old immigrant from having the abortion, according to The Hill. The federal appeals court then announced it will hold a hearing in the case on Friday, Oct. 20.
In addition to the ACLU, many other organizations have released statements supporting health care provided for the undocumented teenager. Democratic National Convention spokesperson Mandy McClure released the following statement on Wednesday, Oct. 18:
The Trump administration has no business making health decisions for women. Many of the unaccompanied minors affected by this unlawful and unconstitutional policy are fleeing dangerous situations that most of us could never imagine, including rape, torture, and abuse. Democrats will fight this oppressive mistreatment and continue to stand up for the rights of all women.
NARAL Pro Choice America President Ilyse Hogue released a statement on Wednesday, Oct. 18 saying:
Holding this young woman against her will and forcing her to remain pregnant, while dragging her to a fake clinic that lies, shames, and intentionally misleads women about their health care options is cruel. We stand with Jane Doe and the ACLU in their efforts to protect this young woman, and the countless other women who face horrifyingly similar situations.
Cecile Richards, president of Planned Parenthood Federation of America said in a statement on Wednesday, Oct. 18:
This administration has been hell-bent on attacking women's health and rights from day one. These latest actions reveal the clear disdain this administration has for a woman's right to control her own body and its hostility towards immigrants.We demand that the Trump administration stop playing politics with women's lives.
This Jane Doe case, which has made national headlines, will be brought to a federal court of appeals in Washington on Friday, and courts will hopefully soon make a decision on this immigrant teenager's right to an abortion.