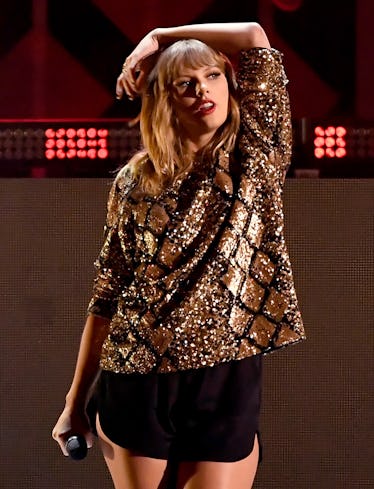 Taylor Swift Is Being Roasted For What She Said About 2017 & The Tweets Are Brutal
Kevin Winter/Getty Images Entertainment/Getty Images
Look, I think we can all agree that 2017 was not exactly our proudest year as a society. It's been less-than desirable for many, and I think that we all know that going through the laundry list of awful things is not necessary, because there's just too many things! So it's understandable that people are raising their eyebrows prettty high when it comes to Taylor Swift's recent social media post on her birthday, Dec. 13, thanking her fans and adding, "I couldn't have asked for a better year." Hold up, what? Swift definitely wasn't thinking properly when writing the post, and fans' tweets about Taylor Swift's "better year" quote are basically telling her to double-check her words before hitting "post" on social media moving forward.
Here's the thing: Taylor Swift did have a good year. In August, Swift announced her newest album, Reputation, would be released in November – the first album we'd seeing from her since 2014 – and also dropped her single "Look What You Made Me Do." So yes, double points to Taylor for this.
In October, she announced that she'd be taking over social media by creating an app called The Swift Life, an app which claimed that "Taylor can see, like, and comment on posts," and collect "Taymojis™," and you know what? That's another achievement. So yes, Taylor. It seems that you are indeed crushing 2017.
Later in October, Swift dropped "...Ready For It?," and showed an even more fierce side of Taylor than the one we knew from before. The old Taylor couldn't come to the phone anymore, and we were all here for it.
And when November finally came, and the world heard Reputation, we were all shook. From the #Kaylor conspiracy theorists claiming that "Dress" is actually about Karlie Kloss, and "This Is Why We Can't Have Nice Things" is really a roast about Kim Kardashian and Kanye West, Taylor proved that she was killing it.
But the problem is, when you're having a stellar year and the rest of the world is not, bragging about it does not typically award you any brownie points.
In fact, it does the exact opposite. So when Taylor Swift took to Instagram to show her appreciation for all the love she's received and to thank everyone for their support, there was instant backlash.
Her Instagram caption reads:
I love you guys so much. This was a photo @paul_sidoti took at @capitalofficial Jingle Bell Ball in London a few days ago. I couldn't have asked for a better year, all thanks to you. Thanks for all the birthday wishes. Can't wait to see what 28 will be like. See you on tour
Fans were quick to point out Swift's ignorance of the dark and difficult times that many faced this year:
Eesh. Can you tell that a storm is brewing?
Others tried to lighten the mood by advising Taylor to "read the room":
To be fair, I truly don't think Taylor Swift intentionally made it seem like 2017 was an epic year for everyone, just that she had a really good year with her own personal achievements. And it's not to say that Taylor didn't face difficulties this year, either.
Swift was featured standing alongside women on the cover of TIME's Person of the Year issue, after winning a battle over a sexual assault case against former radio host David Mueller.
So, should we just chalk this up to a poor choice of words, forgive, and forget? Or should we expect Taylor to revise her birthday post to reflect something that's a bit more empathetic to the people who have not had a good year, aka nearly everyone in the world?
Let's just put our trust in the Taylor-verse, you guys.