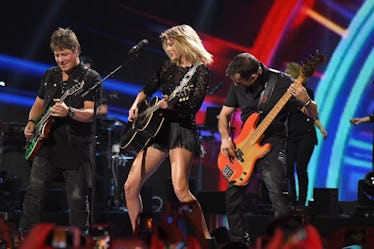 Taylor Swift Is Launching A New App Called "The Swift Life" & Fans Are Freaking Out
Larry Busacca/Getty Images Entertainment/Getty Images
Taylor Swift has a new app coming out that's just for her Swifties. The Swift Life will be available later this year and promises something for all of Swift's fans. From the sound of it, Taylor Swift's The Swift Life app is going to be a must-have.
According to a press release about the new Swift-centric app, Glu Mobile Inc., "a leading global developer and publisher of free-to-play mobile games ... announced the first details about the upcoming launch of The Swift Life, a new digital entertainment project in partnership with multiple Grammy Award-winning artist, Taylor Swift, to be released as a beta in limited territories soon."
OK, say no more. You had me at The Swift Life. What else do I need to know, really? Well, turns out the app has quite a lot to it, as the press release further reports: "The Swift Life provides a creative, inclusive and community-driven place for users to better connect with each other... and Taylor!"
Screaming.
Glu's President & CEO, Nick Earl, explains:
We've worked closely with Taylor and her team to bring her creative vision to life. The result is a deeply social environment where Taylor and her fans are able to better connect with one another while expressing themselves in an interactive community. We look forward to its worldwide launch later this year.
Honestly, why has this taken so long to become a reality? No worries, it's almost here now and that's really all that matters.
And, should you think Swift herself played a minimal role in the app's creation and functionality, look no further than the "Look What You Made Me Do" singer for the scoop.
Swift dishes on The Swift Life with a first look teaser video that has got fans totally psyched. She kicks it off by saying, "Hey guys, it's Taylor" (as if we needed an introduction), followed by "I've got something pretty awesome that we've been working on for awhile that I wanted to share with you."
A flurry of The Swift Life features fly by on the screen, but here's all you need to know:
Connect with Taylor: Get new and exclusive pics and video!
Share With Friends, Fans, & Taylor: Taylor can see, like, and comment on posts!
Get Exclusive Taylor Stuff: Collect Taymojis™, stickers, pics, and more!(Yes, you read that right. Taymojis will soon be a reality.)
Play Music & Chat With Friends: Songs added every week!
She sums it up by saying, "I think you guys are really going to like this. I mean, I hope. It would be preferable if you did." So... Who's ready for it?
The Swift Life app comes on the heels of Swift popping in on various Instagram stories and polls, as well as fan Tumblr accounts, over the weekend. Was her presence on social media a way to build excitement over her upcoming app? If Swift is going to be that active on The Swift Life, interacting with her fans regularly, there's no doubt it'll be another successful venture for the pop star.
Fans are all in for The Swift Life, as you'd expect, with one tweeting: "The Swift Life is great bc it gives twitter Swifties a chance to be noticed without Taylor having to come twitter here and see all the hate."
And with a one-stop shop social experience for all things Swift, will this happen?
Another fan imagines it could go even further than that, but let's not get ahead of ourselves:
One fan compiled some of the highlights of The Swift Life app and it's all pretty exciting:
Here's hoping Swift doesn't keep fans waiting too long for this new app!
Check out the entire Gen Why series and other videos on Facebook and the Bustle app across Apple TV, Roku, and Amazon FireTV.