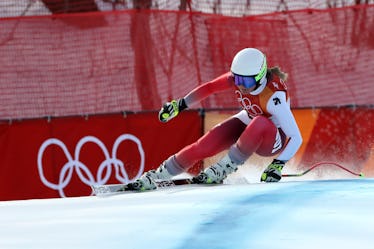 Mikaela Shiffrin & Lindsey Vonn Are Facing Off & Twitter Is All About It
Christophe Pallot/Agence Zoom/Getty Images Sport/Getty Images
Can you say #girlsquad? The U.S. women's alpine skiing team is certainly no joke, especially with Olympic legends like Mikaela Shiffrin and Linsey Vonn on the team. These tweets about Mikaela Shiffrin and Lindsey Vonn prove that this face off is sure to go down in history.
Feb. 22 marks one of the final opportunities for Mikaela Shiffrin and Lindsey Vonn to strut their stuff at the 2018 PyeongChang Winter Olympics. The two are head to head in the women's alpine skiing combined on Feb. 22 in PyeongChang (Feb. 21 in the United States), and people are super hyped.
Since her triumph in the 2014 Sochi Winter Olympics, Shiffrin has been one of the most discussed Olympians competing during this year's competition, and with good reason. The skiing prodigy earned gold in slalom during the 2014 Winter Olympics, and although she placed fourth during this year's slalom competition, Shiffrin went on to conquer gold in giant slalom during the 2018 Winter Games.
Two gold medals at age 22. It's casual.
Sadly, all good things must come to an end. As this year's Olympic games move toward a close, at least we'll be able to watch Shiffrin shred for a few more times until next season's competition.
However, Shiffrin has quite the competitor if she wants to claim that gold.
Fellow Olympian Lindsey Vonn will also be gracing the women's combined event, and she's definitely no stranger to Olympic alpine skiing. Vonn made her Olympic debut during the 2002 Salt Lake City, Utah Winter Olympics at age 17. Despite not being able to compete during the 2014 Sochi Winter Olympics due to a back injury, Vonn returned to the Winter Olympics with a vengeance. However, many predict that the now 33-year old will be calling it quits after PyeongChang.
So it's Vonn vs. Shiffrin, and this girl-power rivalry has Twitter totally hype to see it all go down.
But "rivalry" or no, both of these skiers are champions in their own right.
Due to weather conditions, the women's combined was moved a day up to Feb. 22 (Feb. 21 in the United States). As a result, Shiffrin opted to not compete in the women's downhill on Feb. 21 in order to avoid back to back Olympic competition. Probably a good decision, since weather delays forced Shiffrin to compete in slalom and giant slalom only a day apart, leading her to place lower than expected in the slalom event.
The hype behind Shiffrin goes past Olympic viewers, fellow skiers have also raved on her talent. During a Jan. 3 interview with Reuters, Olympic gold medalist Bode Miller spoke of Shiffrin's immense talent in the sport.
He said,
I think she's maybe the best ski racer I've ever seen, male or female. She's so balanced, dynamic, intense and focused, so for me, I think she's got a chance in any event she skis in. I would say it's likely she wins two Olympic golds, I would say an outside shot at five medals, and I think probably, at her best, maybe three or four of them are golds.
Vonn, however, chose to do the back-to-back, competing in the downhill run on Feb. 21. And though Vonn didn't claim gold in women's downhill skiing, she took home bronze. While some may call this a "loss", I'd like to point out that this is the Olympics. The last award I won was a participation trophy.
Vonn didn't let landing in third place rain on her parade. She told NBC Olympics that she was just happy to be participating in this year's Winter Games.
She said,
It was amazing. I'm so thankful I am able to be here, I am able to ski and do what I love. I have had a roller-coaster last eight years, with so many injuries. But I'm here. I'm healthy. I'm able to ski 100 percent. And I'm just very thankful for the opportunity. I may not have gotten a medal today but I'm still proud of my performance. I have two more races left. So I'm hoping those will go a little bit better.
As of 10:32 p.m. ET, Vonn currently held first place in the first run of women's combined with a time of 1.39.37, with Shiffrin in sixth. The slalom event, however, isn't scheduled until 1 a.m. ET. Good luck staying up for that.
But if you do, let me know how it goes. Vonn and Shiffrin are not only amazing competitors, but also, clearly, amazing women. Good luck Team USA!