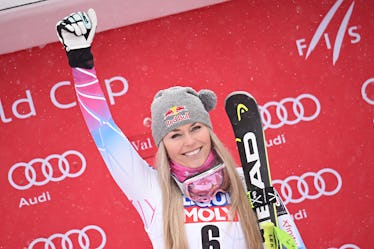 Is Lindsey Vonn Competing In The 2018 Olympics? The Skier Is Ready For PyeongChang
Michel Cottin/Agence Zoom/Getty Images Sport/Getty Images
The 2018 Winter Olympics are starting Friday, Feb. 9, in PyeongChang, South Korea, and one competitor fans are hoping to see is skier Lindsey Vonn. Vonn is the most successful women's skier in history, according to TIME, so is Lindsey Vonn competing in the 2018 Olympics? To make matters quick: Yes, she is. This year's Olympics could possibly be her last, however, so that's a pretty huge deal. Vonn made her debut at the Olympics in 2002 in Salt Lake City, Utah. She was just 17 at the time. She's 33 now and has had a long, massively successful career since then. She might be thinking of retiring from the Olympics after this year's games after 13 years of success.
She has had some heartbreaks in recent years, though. Vonn wasn't able to compete in the 2014 Winter Olympics in Sochi due to a devastating knee injury the year before. While she was doing better, her knee wasn't in good enough shape to safely compete, so she bowed out. It's part of the reason fans are so eager to see her compete this year. Vonn suffered a back injury during a World Cup race this past December, but it wasn't a long-term injury like her knee was, so she's good to go now. The injury happened during a World Cup super-G race that she was nearly about to win, according the The Guardian. Vonn tweeted explaining the injury later, saying, "I got compressed on the sixth gate and my back seized up. Rested and had a lot of therapy tonight. We will see how I feel tomorrow and then decide if I will race. Thanks for the support."
This injury didn't stop her from winning, though. Later that week, Vonn won her 78th World Cup race. She's reportedly trying to break the current record of 86 World Cup race wins held by Swedish skier Ingemar Stenmark. She reportedly might retire if/when she accomplishes that goal. But she's still looking to the Olympics in PyeongChang this February.
Vonn has also been in headlines for different reasons lately. The skier said to CNN back in December that she wouldn't accept an invitation to the White House following the Olympics. Win or lose, if you're on the U.S. Olympic team, you're invited to the White House by the president following the games. But Vonn says she will not go to the White House because she doesn't support Donald Trump. (Girl, I love this.) She told CNN, "I hope to represent the people of the United States, not the president." She added,
I take the Olympics very seriously and what they mean and what they represent, what walking under our flag means in the opening ceremony. I want to represent our country well. I don't think that there are a lot of people currently in our government that do that.
When asked if she plans on accepting the impending invite to the White House, Vonn said quite plainly, "Absolutely not. Nope. I have to win to be invited so – no, actually I think every US team member is invited. So, no, I won't go." She made waves with this comment among Trump supporters.
In a long Instagram post, Vonn responded to the backlash she received from Trump fans. Part of her caption read, "My recent comments opened up my eyes as to how divided we are right now." She continued, "It is hurtful to read comments where people are hoping I break my neck or that God is punishing me for being 'anti-Trump.' We need to find a way to put aside our differences and find common ground in communicating. Is it wrong to hope for a better world?" The point she made in her post was that when she and other Americans go to the Olympics, they're not there to represent Trump and Trump alone. They're there to represent the entire country. She doesn't have to like Trump in order to do that.
To learn more, visit teamusa.org. The Winter Olympics will air live starting February 8.
Check out the entire Gen Why series and other videos on Facebook and the Bustle app across Apple TV, Roku, and Amazon Fire TV.