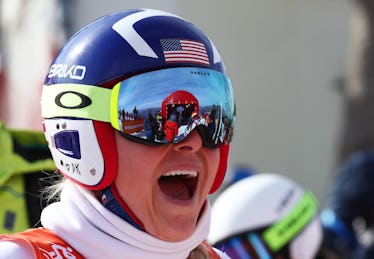 Lindsey Vonn's Medal Win In Downhill Skiing Is So Bittersweet
Alexander Hassenstein/Getty Images Sport/Getty Images
Ever since Lindsey Vonn's Olympic schedule was released, many of my days during the 2018 PyeongChang Games have consisted of me obsessively Googling her scores to see if she's claimed a gold medal or not. I just wanted her to win as many competitions as she could because, on top of her overachieving athletic abilities, I thoroughly adore her personality. Vonn has become one of my favorite ski contenders. Although Lindsey Vonn didn't win the women's downhill competition, she at least took home a bronze medal.
On Tuesday, Feb. 20, (which was Feb. 21 in South Korea) Vonn competed in the women's downhill competition, finishing with a time of 1:39.69 that originally knocked her into bronze position, according to The New York Times. She ranked behind Italy's Sofia Goggia and Norway's Ragnhild Mowinckel, who finished at 1:39.22 and 1:39.31. Vonn ranked in third place, but it's bittersweet, as it's likely her last downhill Olympics competition. "It's sad, I love what I do, but my body just probably can't take another four years," she told NBC after her run.
On Friday, Feb. 16, Vonn also lost during the women's super-G. She had a pretty big slip during the last leg of the competition, which compromised her score. She finished in sixth place, tied with Italy's Federica Brignone. Although I was devastated (and Vonn was visibly frustrated), she said she tried her best, which is all that really mattered.
Even though Vonn lost the competition, she told NBC Olympics that she was just happy to be at the PyeongChang Games. She said,
It was amazing. I'm so thankful I am able to be here, I am able to ski and do what I love. I have had a roller-coaster last eight years, with so many injuries. But I'm here. I'm healthy. I'm able to ski 100 percent. And I'm just very thankful for the opportunity. I may not have gotten a medal today but I'm still proud of my performance. I have two more races left. So I'm hoping those will go a little bit better
As a former athlete who has spent an equal amount of time away from sports, I can confidently say that I'm way too rusty for there to be any possible way that I'd ever be eligible to enter a competition again. But Vonn, on the other hand, has been killing it given the circumstances — third place or sixth place.
But Vonn is still a champion.
Vonn, who made her Olympic debut in 2002 in Salt Lake City, Utah at just 17, suffered a knee injury nearly a year before the 2014 Sochi Games, which made her unable to compete in the event. According to The New York Times, Vonn fell during the super-G of the Alpine world championships. The crash resulted in two torn knee ligaments and forced the skier to get reconstructive surgery.
She also suffered a back injury late last year during a World Cup event, according to The Guardian. She later tweeted about her injury, writing,
I got compressed on the sixth gate and my back seized up. Rested and had a lot of therapy tonight. We will see how I feel tomorrow and then decide if I will race. Thanks for the support.
Bouncing back from an injury is never easy, but Vonn didn't let her's slow her down at all. Later in the week, Vonn won her 78th World Cup race. Her hiatus, coupled with her above-average ski abilities, is what makes her return to the Olympics so thrilling and anticipated.
The 2018 Winter Olympics is Vonn's comeback.
Though Vonn has attended the Olympics four times, she's only won two medals. During the 2010 Olympics in Vancouver, the 33-year-old won a gold and a bronze medal. As far as this year's event, the bronze is her first — and only — medal so far. But there's still hope. On Thursday, Feb. 22, Vonn will compete again in the women's alpine combined competition, giving her another shot at earning a medal.
Vonn has been through a lot, and she deserves to win! I'll definitely be rooting for her until the ski competitions are over.