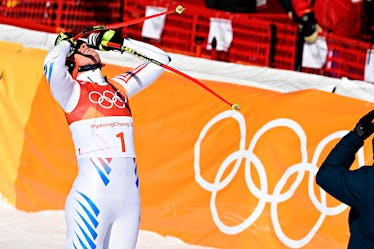 Lindsey Vonn Didn't Win The Gold For Her Super-G, But The Vid Will Make You Proud
Alain Grosclaude/Agence Zoom/Getty Images Sport/Getty Images
I am a major Lindsey Vonn fan. In addition to being an awesome skier, she seems super outgoing, and she also has an incredibly determined spirit... which is why I was pretty bummed that she didn't place on the Super-G course during her last Olympic event in PyeongChang. But you can just tell from the video of Lindsey Vonn's Super-G that she tried so, so hard — and it's honestly kind of heartbreaking.
Vonn's 2018 Olympic debut started with the women's Super-G on Friday, Feb. 16 (for viewers watching in the U.S.) and Saturday, Feb. 17 in South Korea. While she was super determined and feeling positive about the race beforehand, Vonn slipped a bit towards the bottom of the course, and it really slowed her down. She ended up finishing in sixth place, tied with Italy's Federica Brignone. This was Vonn's first time skiing in the Olympics in eight years. Even though she was really hoping to bring home gold, she ended up not placing at all. And based on her expression right after the run, you could tell Vonn was absolutely devastated. Although her loss was heartbreaking, she tried her best, and was an incredibly good sport.
At the end of the video, Vonn says, "I tried."
According to NBC, the Super-G race was really tight. Ester Ledecka from the Czech Republic ended up winning gold by one-hundredth of a second. Anna Vieth from Austria, who had won the Super-G in Sochi 2014, took home a silver medal, and Tina Weirather from Lichtenstein, managed to snag bronze. The Super-G was — as usual — an incredibly close race, and even though Team USA was hardcore rooting for Vonn, it was still invigorating to watch.
To all the Vonn fans out there, we have good news. According to Time, this isn't Vonn's last chance to win gold in the 2018 PyeongChang Olympic Games, and I, personally, am beyond relieved. Vonn was suffering from an injury and didn't get to go to the 2014 Olympic Games in Sochi, but she has an upcoming downhill race on Tuesday, Feb. 20 (for U.S. viewers), and on Wednesday, Feb. 21, if you're in South Korea. I am crossing literally all of my digits that Lindsey will redeem herself, because she totally deserves it. Definitely make sure to tune in for it, because you know she's going to be fighting like we've never seen her fight before. Even though Vonn didn't place during the Super-G, the U.S. definitely has high hopes for her.
While Lindsey Vonn is a fighting spirit and incredibly talented, her parents are super supportive, which definitely makes all the difference. Vonn says that parents have always been inspiring and encouraging. They watched her dominate in all of her international competitions growing up, before she made it to her first Olympics at only 17 years old. Vonn's father, Alan Kildow, was also a competitive skier, as she says he inspires her on the slopes. Based on a video series about Olympic athletes and their relationships with their mothers, for Procter & Gamble's "Thank You, Mom" campaign, she says her mom, named Lindy Lund, is her "life" role model. Having supportive parents is clearly super important, even when you're an Olympic athlete.
Even though Vonn skied her heart out during the Super-G race, she unfortunately didn't win gold, or place at all. I'm totally rooting for her during her race next week, though — because knowing her competitive personality, I know for a fact she'll be back with a vengeance.
Check out the entire Gen Why series and other videos on Facebook and the Bustle app across Apple TV, Roku, and Amazon Fire TV.