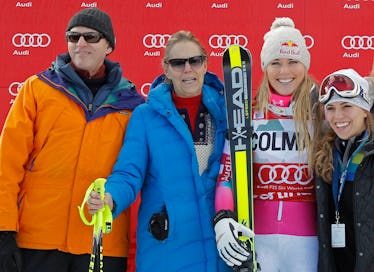 Lindsey Vonn's Parents Are Her Biggest Olympic Supporters & It's So Sweet
Lindsey Vonn is heading to the Olympics in Pyeongchang, South Korea, this February. The games are set to begin Feb. 8 and will air live on NBC. Leading up to the games, everyone looks into the back stories of their favorite competitors to get a refresher on who they're cheering for. So let's talk about fan favorite Lindsey Vonn. She started racing at the age of just 7 years old. Lindsey Vonn's parents were pretty much the inspiration behind her ski career, as her father, Alan Kildow, was a competitive skier himself. Two years after she started competitive skiing, Vonn was competing in international competitions and went to her first Olympics when she was just 17.
Vonn's Olympics debut was at the games in Salt Lake City, Utah, in 2002 and she's been one of the world's best skiers ever since. In a video series about Olympic athletes and their relationships with their mothers (Procter & Gamble's "Thank You, Mom" campaign), Vonn explained that while her father is the person who got her skiing, her mother, Lindy Lund, is the person she modeled her strength after.
The video series is so touching.
The first thing Vonn reveals in the video is that her mother had a stroke while giving birth to her. She said in the video, "My mom is really tough. I mean, she had a stroke when she gave birth to me. I've never once heard her complain about it. She always taught me, no matter what the situation, I can overcome it." She added, "My mom is optimistic no matter what, and I think some of that rubbed off on me." That optimism no doubt came in handy when Vonn had to step out of the 2013 Olympics due to a massive knee injury. Her mother didn't want her to compete, likely because she knew it could possibly worsen the injury, but told USA Today that she let Vonn decide for herself and waited to share her own opinion after the fact. She told USA Today in 2013, "I didn't want her to race, but I didn't tell her until after she made her decision."
In the above video, Lund is heard saying Vonn knew she wanted to be the most decorated female skier in history when she was 8 years old. Lund said, "She always had a dream. She wanted to win more gold medals than any woman had ever won at 8 years old. And she practiced her autograph." So after her knee injury and taking a break from the 2013 Olympics to heal, Vonn kept working for what she wanted.
In December 2017, Vonn suffered another injury to her back, but it wasn't nearly as bad as her knee injury.
In a tweet about the minor injury following the race, she said, "I got compressed on the sixth gate and my back seized up. Rested and had a lot of therapy tonight. We will see how I feel tomorrow and then decide if I will race. Thanks for the support." Just days after the injury, Vonn went on to win the World Cup Super-G event. It became a powerful moment for Vonn and her father, who was at the race watching his daughter compete.
After winning, Vonn posted this Instagram with her father.
She captioned the post, "Tears of joy! I just did what Dad told me to do, 'never, never give up!' Love you dad. #LV78." That #LV78 hashtag stands for Lindsey Vonn and the 78 wins she's accumulated over her career. She's looking to break the current record for most World Cup race wins held by Swedish skier Ingemar Stenmark, who has won 86 titles. Vonn says she's considering retiring from skiing if she accomplishes this goal.
After her 78th win at the World Cup, Vonn commented on how good it was to have her father there watching, according to USA Today. She said,
I asked my dad if he could come to some races with me. My dad's always the one who says, 'Never, never give up.' He loves Winston Churchill. It's nice to be able to share these moments with my dad as I approach the end of my career.
It's not yet clear if Vonn's parents and family, including her stepfather and her sister Laura Kildow, will be traveling to Pyeongchang with Vonn for the 2018 Olympics, but considering it might be the last Olympics of her career, there's a good chance they will.
To learn more, visit teamusa.org. The Winter Olympics will air live starting February 8.