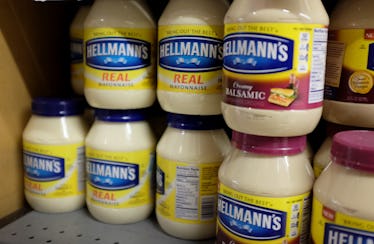 Mayonnaise Ice Cream Exists & Twitter Can't Stop Talking About It
Joe Raedle/Getty Images News/Getty Images
Imagine this. You're hosting a dinner party. You ask one of your close friends to bring dessert. Your friend walks in, and is holding what you think is vanilla ice cream. You later realize that it's definitely not. Just when I thought mankind couldn't outdo ketchup ice cream, these tweets about mayonnaise ice cream have proven me wrong.
Yes, you read that right. Mayonnaise ice cream is now a thing courtesy of ice cream shop ICE in Falkirk, Scotland. If you ask me, it can stay there. However, I would be lying if I said I wasn't slightly curious to know about what exactly goes into making this product. Well, ICE owner, Kyle Gentleman, spoke to the Today show on July 20 about creating this dessert, and described its taste as a "full on hit of fat and cream followed with an eggy milky aftertaste." Perhaps that sounds great on surface value, but I'm sorry, the fact that it's mayonnaise has me less inclined to give it a try. This may be one of the most absurd ice cream flavors in existence yet, but the Scotland scoop shop isn't a stranger to strange, exotic ice cream flavors. In addition to this mayonnaise concoction, the store also offers Monster energy drink flavored ice cream. I'm not sure which one sounds more enjoyable to me.
I'm sorry, I just cannot.
Apparently I'm not the only one not completely on board with this frozen treat. Once news broke that such an ice cream flavor exists, Twitter obviously had to chime in with some opinions of their own.
Mayonnaise ice cream is clearly a controversial topic among social media at the moment, but there are actually a few people who are defending the unconventional flavor. After all, the ingredients that go into mayonnaise ice cream are actually eerily similar to the recipe for a simple scoop of ice cream.
I may not understand it, but some people just love trying out interesting and exotic ice cream flavors. Just take the pickle-flavored soft serve as an example, which brave foodies can try at Lucky Pickle Dumpling Co. in New York City. In May, Lucky Pickle Chef Glenroy Brown spoke to Refinery29 about the thought behind this flavor, and revealed that it was made to evoke "summertime nostalgia." Hm.
"We wanted to have something that reflected our childhood memories," Chef Brown said to Refinery29. "We're known for our pickle recipes and in both of our other restaurants, we have pickles as one of our staple items on the menu, so this was sort of a no-brainer."
Personally, I'll be sticking to my classic mint chocolate chip and cookies n' cream flavors, but to each their own I suppose.
Luckily for me, there are tons of other unique ice cream flavors that will be gracing our tastebuds this summer, and they have nothing to do with sandwich condiments. From Jeni's Frosé Sorbet to Dunkin' Donuts' coffee ice cream, there's plenty of tasty options that aren't as controversial.
It's time to beat the heat and grab that cone, everyone. Whether it's mayonnaise or chocolate, I hope you enjoy.