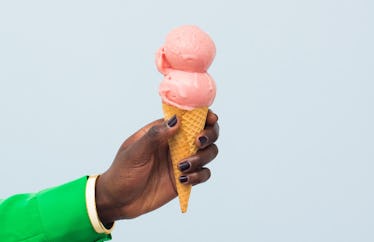 This Rosé-Infused Sorbet Will Make National Rosé Day So Much Sweeter
Jeni's Splendid Ice Creams
My "summer diet" is a little unconventional, I suppose. It basically consists solely of cherries, french fries at the beach, anything with a few solid grill marks, and, of course, ice cream. Lots and lots of ice cream. I mean, let's be real: There's truly nothing better than a refreshing cone on a hot day... unless, of course, that ice cream is made with rosé wine. Speaking of which, I have just the dessert for you. Jeni's Splendid Ice Creams' Frosé Sorbet is here, and you're going to want to try it.
Between the start of summer and National Rosé Day (which is coming up Saturday, June 9), now is definitely the time to get your wine-loving hands on a pint of Jeni's Frosé Sorbet. According to a press release, Jeni's Frosé is not only infused with actual rosé, but it's "Sangria-style," meaning there's actual fruit blended into it. That's right: It's like a freaking smoothie, mixing in some pears, strawberries, lemon, and even watermelon. It's bound to cool you down on any hot summer evening, and it's the tart little kick you'll want to wind down with after a long day of work. I could honestly go for some right about now.
In a press release, the creator of Jeni's Frosé Sorbet (Jeni herself!) says that she's loved rosé for years — long before the trend really kicked off. She says that their frosé recipe is absolutely perfect for summertime, and that it pairs with practically anything, from wine to waffle cones.
In a press release, Jeni said,
I've approved of the frozen rosé trend ever since my first sip of frosé at a bar in Austin, Texas. Simple, bright, refreshing—it's exactly what I want on a hot day. Our version amps up the fruity notes of California's Peregrine Ranch rosé with added pear, strawberry, watermelon, and lemon. Great on a cone or topped with your favorite sparkling wine.
And not only is it bound to taste straight-up heavenly, but it's a perfect shade of millennial pink. Just look at it, scooped perfectly on top of a cone. It's so pink, so beautiful, and so delectable. It's the snack of the summer, and I'm honestly not sure how I won't end up eating the whole pint in one sitting.
Conveniently, you won't need a government-issued ID on you to get your hands on this. Even though it is infused with actual rosé, it's totally non-alcoholic. So everyone of any and all ages can give it a go.
Since you're probably itching to get your hands on some, it's available at grocery stores like Publix, and in specialty grocery stores, according to the press release. If you're not sure where to get it near you, just navigate to the company's "Where To Buy" page and type in your zip code, and you'll see a list of nearby restaurants and supermarkets that are currently selling it. If the Frosé Sorbet isn't sold anywhere near you, though, all of their pints are available for purchase online for only $12 — so make sure to add a few to your cart. You can never have too much ice cream, so I whole-heartedly support any and all frosé shopping sprees.
Thank the freaking ice cream overlords that warm weather is finally upon us, because I seriously cannot wait any longer. I miss cooling down with a solid frozen treat, and it looks like Frosé Sorbet is about to be the icy snack of the summer. If you need me, I'll just be kicking back with a glass of rosé, and, of course, a pint of rosé to go with it.