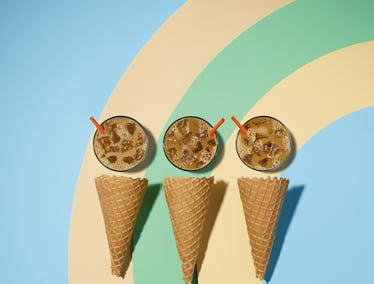 Dunkin' Donuts Is Brewing Ice Cream Flavored Coffees This Summer, So Drink Up To Cool Down
Dunkin' Donuts
Dunkin' Donuts is welcoming summer in a very cool — and delicious — way. The doughnut retailer is churning up three new ice cream-flavored coffees for you to sip on this summer. Best of all? The new additions to the menu were voted on by you last summer. If you can't remember that far back, (this is your free pass, because I can't either), here is what ice cream-flavored coffees Dunkin' Donuts is serving up this summer.
You may remember last year when the coffee and doughnut shop asked America to vote on their top three ice cream flavors from Baskin Robbins' five most popular options. (Side note: In case you didn't know, Baskin Robbins is owned by Dunkin' Brands.) Well, the results are in. The winning flavors are (drumroll, please): Butter Pecan, Cookie Dough, and Pistachio.
These three flavors bested out Rocky Road and Jamoca Almond Fudge, and will be the latest additions to the Dunkin' Donuts menu. You'll need to move quickly to enjoy one of these summertime treats, though, because the ice cream-flavored coffees are only available for a limited time, according to Dunkin' Donuts. Before you cozy on up to these creamy creations this summer, spend some time getting to know them first.
Butter Pecan: This southern-inspired flavor features the robust flavors of butter roasted pecan coupled with sweet cream.
Cookie Dough: While there's no actual cookie dough in this flavor, go on and fool your taste buds because it sure does taste like it.
Pistachio: Calling all nut-lovers, this sweet and buttery-flavored ice cream is going to be your go-to coffee mix-in.
To celebrate the launch of the three ice cream-flavored coffees, Dunkin' Donuts is also honoring those customers who helped select these new flavors. The doughnut shop, which is headquartered in Canton, Massachusetts, will surprise a dozen fans whose comments or posts the company found particularly noteworthy during last year's campaign with a summer's worth of coffee.
The fun doesn't stop there. In addition to free coffee for some lucky customers, for one day this summer, Dunkin' Donuts will also offer free medium ice cream-flavored iced coffees to the first 500 guests who visit participating locations in the winner's hometown. Think your comment may have won them over? Check the Dunkin' Donuts blog to see if you were selected. A full list of fans will be posted to Dunkin' Donuts blog in early June.
Ice cream-flavored coffees aren't the only new menu items Dunkin' Donuts is rolling out this summer. In addition to your caffeine pick-me-up, you can also cool off with a Frozen Lemonade. You can order the original lemon flavor, or if you're feeling fruity, mix it up a bit and order a strawberry-flavored Frozen Lemonade. Life's all about choices, right?
Finally, since you're going to need something to eat with your beverage, Dunkin' Donuts is bringing back its Sweet Black Pepper Bacon Breakfast Sandwich. The fan-favorite morning meal comes with four strips of bacon coated with brown sugar and black pepper on top of an egg and slice of melted American cheese on a toasted croissant. Yum. If croissants aren't your thing, you can also order a slightly modified version of this sandwich. The Wake-Up Wrap has all of the same tasty flavors except it only has half of an egg, two slices of the seasoned bacon, and a slice of American cheese on a flour wrap.
All of these new offerings are available at participating Dunkin' Donuts restaurants nationwide for a limited time. You've got all summer to enjoy these flavors any which way you please including hot and iced coffees, lattes, macchiatos, Frozen Coffee and Frozen Chocolate. Why not try all three? I know I'll be indulging in a Butter Pecan Frozen Coffee, because it's hot out there.