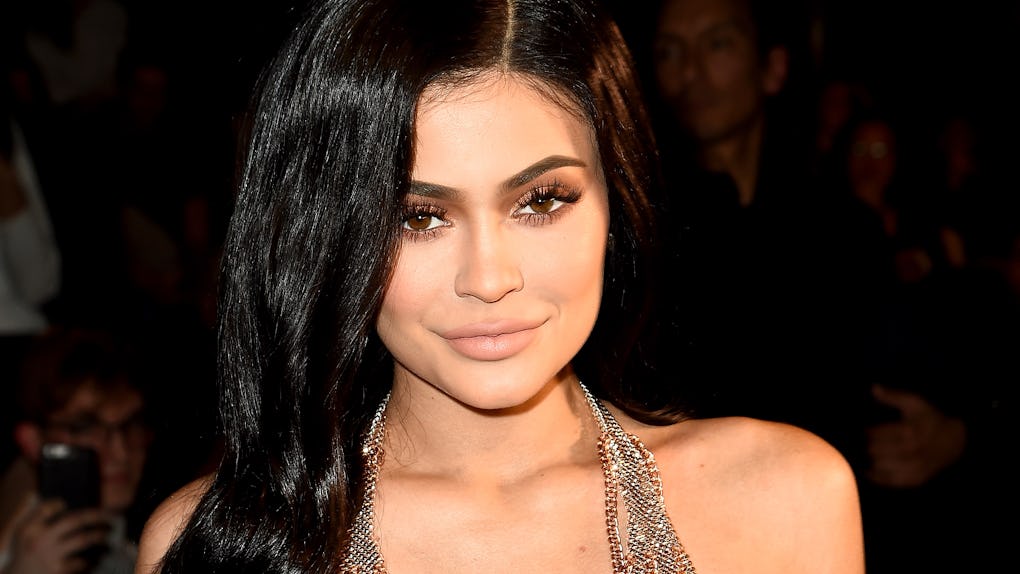 Nicholas Hunt/Getty Images Entertainment/Getty Images
Tweets About Kylie Jenner Giving Birth Are Taking Over The Internet
I can hardly believe it, but Kylie Jenner has given birth. I honestly lost hope that this day would ever come, especially since we never got a clear confirmation that Jenner was pregnant. We can all take a giant sigh of relief that we finally know the truth, because Jenner has had a baby. Honestly, the best part has been reading tweets about Kylie Jenner giving birth. It's really top-notch content.
Jenner posted a statement on Instagram on Sunday, Feb. 4 saying, "I'm sorry for keeping you in the dark through all the assumptions. I understand you're used to me bringing you along on all my journeys. My pregnancy was one I chose not to do in front of the world. I knew for myself I needed to prepare for this role of a lifetime in the most positive, stress free, and healthy way I knew how. There was no gotcha moment, no big reveal I had planned. I knew my baby would feel every stress and every emotion so I chose to do it this way for my little life and our happiness."
She continued, writing, "Pregnancy has been the most beautiful, empowering, and life changing experience I've had in my entire life and I'm actually going to miss it. I appreciate my friends and especially my family for helping me make this special moment as private as we could. My beautiful and healthy baby girl arrived February 1st and I just couldn't wait to share this blessing. I've never felt love and happiness like this I could burst! Thank you for understanding."
Needless to say, people are less than shocked about Jenner's news. Even though Jenner never previously confirmed the reported pregnancy, suspicion was HIGH among fans. People poured over every photo, caption, and tag in hopes of cracking the code. The longer Jenner went without speaking on or addressing the rumors, the stronger the probability grew that she was indeed pregnant.
In fact, not even her family spoke on the topic. The closest we got to any Kardashian-Jenner addressing the rumor was Kris Jenner sending a cryptic text message to Ryan Seacrest. The morning show host was texting Kris on-air during Live with Kelly and Ryan trying to get a definite answer. Instead, he got a very vague response from the momager. Seacrest explained,
Kris says Kylie's not confirming anything. That's the news from the family this morning. Kylie is not confirming anything.
Kris Jenner also said something just as strange during an interview with The Cut in September,
I just woke up this morning. She's not confirmed anything. I think it's kind of wild that everyone is just assuming that that's just happening.
Just as early as a few weeks ago ago, Khloé Kardashian was on Ellen when she was asked about Jenner's pregnancy. Host Ellen DeGeneres asked Kardashian if Jenner was craving things yet. Kardashian responded, "What do you mean?" DeGeneres then says, "She's pregnant." Then, we got a big smile out of Kardashian, and she said, "Oh, I don't know what you're talking about."
These type of answers made fans roll their eyes because they were just so... Kardashian-esque. Now that the news has been confirmed, people on Twitter have a lot to say.
Many people were just so excited for Kylie.
Others had some fun thinking about the timing of the pregnancy announcement, as it came on Super Bowl Sunday.
And lots of folks were so giddy thinking about Chicago West (Kim Kardashian's newborn) growing up with Kylie's baby.
And, of course, everyone took a moment to celebrate Kris Jenner.
Jenner has successfully stayed out of the spotlight for months — and it hasn't gone unnoticed. Even Jenner's older sister, Khloé, called her the "new Rob" during an episode of Keeping Up With The Kardashians in November. If Khloé says it, it's obviously the truth. LOVE YOU, KOKO.
Reports have been swirling around about Jenner would wait until after having the baby to confirm the pregnancy. A source explained to People that Jenner wanted to step out of the spotlight and focus on her health and happiness. The source said,
Kylie wants to disappear and be out of the spotlight and focus on her health and happiness.
That's not to say that Jenner didn't have a little fun teasing us all when she was still active on social media. Those Snapchats featuring literal cinnamon buns coming out of the oven months ago seemed to be intentional.
The source said,
Kylie is only trusting her closest friends and her sisters right now. She wants to reveal things on her own terms but she's, of course, having fun teasing everyone. She knows all the attention is on her and her baby bump, but she won't share until she wants to.
Whether you were a Kylie Jenner pregnancy rumor believer or not, at least the truth is out now. Congrats to Kylie!
Check out the entire Gen Why series and other videos on Facebook and the Bustle app across Apple TV, Roku, and Amazon Fire TV.